Having a hearty meal without turning on an oven or stove or toaster or even a campfire in the summer is utter joy.  This salad was inspired by a restaurant my grandfather used to take me to in New York: Divino, on Second Avenue.  My grandfather was a grand man.  He knew everyone, and they knew him, and he shook their hands.  He would dress to perfection, always a touch too formal.  He had his hands manicured, and he wore the slightest whiff of cologne.  He drank Absolut on the rocks, and took my grandmother on far-flung cruises.  And he cared deeply about family.
Divino was, and still is, although it has changed, an Italian restaurant on the Upper East Side of Manhattan, near where I grew up.  In the back of the restaurant was a large round table, nestled into a booth that was nestled into an alcove in the wall.  The restaurant had burgundy carpeting, and the banquettes were upholstered in the same color.  The tablecloths and napkins were cream, and the silver was heavy.  There would be piano or accordeon music.  Like my grandfather, it was very grand.  And when we went, he always invited my uncles, and aunts, and it made a big and merry party.
What I loved about Divino's as a kid wasn't what I always ordered (fusilli marinara).  It was what I didn't order.  The waiter came around with a huge basket of breads, bread sticks, focaccias, and pizzas.  He came around more often when I was there (some things never change).  They brought plates of bruschetta, biscotti, and cold salads.  One was this chickpea salad, full of red onion and parsley, and lemon, and olive oil.  That salad, and getting to sit under that round table on the plush burgundy carpet, is what made Divino's such an experience.  When I make this salad, as I often do, I think of my grandfather, and of grand days, in the old New York of the rich '80s.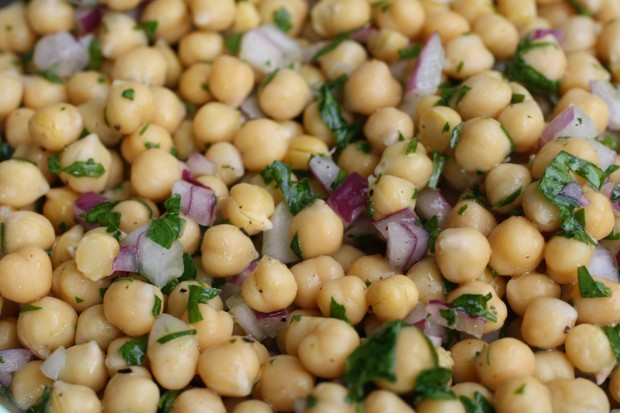 Fresh Chickpea Salad
serves 6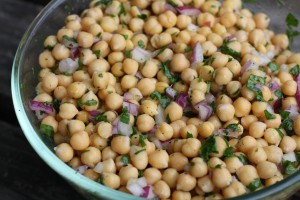 INGREDIENTS


3 cans chickpeas, drained and rinsed


1 small red onion, finely diced


¼ cup roughly chopped flat leaf parsley


¼ cup extra virgin olive oil


Juice from ½ lemon


Kosher salt


Freshly cracked black pepper


PROCEDURE
Toss everything together in a big bowl.  Marinate for a few hours or overnight, covered, in the fridge.  Transfer to a serving bowl, and serve proudly!
print this recipe