Get the whole story on The Huffington Post.
I've been feeling restless. In that soul-churning kind of way, where you don't even want to stand on one foot for too long. Sitting down for a prolonged plate of pasta is out of the question. I want to eat something noncommittal, something I can pick at, something with enough magnetism to make me stop for a minute, and take a bite.
It's summer, which means it's mozzarella and tomato season. But this is better. Slices of milky burrata, nestled next to wedges of sweet, sharp white peaches. Over the top of both, a drizzle of sweet balsamic reduction, extra virgin olive oil, flaked sea salt, and cracked black pepper. I love that unusual savoriness on the peaches, and they are so much sharper than tomatoes that the burrata's mildness is even more remarkable. I served it on a wooden board, surrounded with hunks of crusty bread, to dip in the oil, and the milk that runs off the cheese.
It's just new enough, and interesting enough, to get me to stand–or even sit–still for a minute. And not weigh me down.
Burrata with White Peaches
serves 2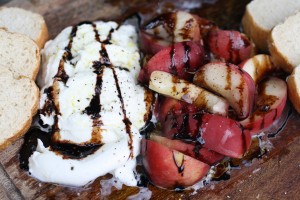 INGREDIENTS


¼ cup balsamic vinegar


1 200-gram (7-ounce) ball of burrata, or buffalo mozzarella, sliced


2 large white peaches, pitted and cut into wedges


1 tablespoon extra virgin olive oil


Freshly cracked black pepper


Maldon or other sea salt


Crusty bread for serving


PROCEDURE
Pour the vinegar into a small pan over medium heat, and simmer until the vinegar has thickened and reduced to 1½ tablespoons. Set aside to cool.
Arrange the sliced mozzarella and peaches on a round board or plate. Drizzle with olive oil, and season with salt and pepper. Once the balsamic reduction has cooled, it will be even thicker. Drizzle all over the peaches and cheese. Slice up some crusty bread, and tuck it around the edges of the platter. Eat up.
print this recipe