It may seem strange to make soup in the summer, but I actually find soup suppers to be light, but satisfying.
Get the whole story on Serious Eats.
There's nothing so French as a lentil.  So lowly, cheap, simple.  And yet, in the hands of the French, so elevated, perfect, and enhanced.  I think most American girls wish they had the same know how about what to do with themselves as the French have with what to do with a lentil.  At least I do.  If you can turn a dried bean from a pebble to a gem, imagine what you can do with a person.
Therein lies the French mystique.  When I get my French fashion magazines in the mail each month, and I see the beautiful Clemence Poesy or Melanie Laurent, I think how stunning, how effortless, how graceful they are.  But there is something about them that is definitely simple, something lentil-like.  They are not uncontested bombshells.  And yet, like French lentils, they are elevated, enhanced, through simple celebration of the very thing that they are, that makes them so captivating and magnetic.  And that makes French lentils good to the last bite.  It makes me proud to be so lentil-like.
I usually make my French lentil soup with a base of bacon and thyme, but the French are forever pairing hams and beans, so I am doing this version with some spicy sausage.  A good garlicky Toulouse sausage would also make a great choice.  The rest is just simple peasant fare—some root vegetables, some dried legumes.  But the finished produce is an absolutely starlet—magnetic, entrancing, irresistible.
Lentil and Sausage Soup
serves 4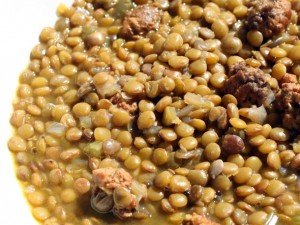 INGREDIENTS


⅓ pound spicy Italian sausage


2 teaspoons olive oil, divided


½ onion, finely diced


1 celery rib, finely diced


½ pound green lentils


The leaves from 4 stems of thyme


1 quart vegetable broth


PROCEDURE
Remove the sausage from the casing, and roll into tiny meatballs.  Heat 1 teaspoon olive oil in a large stock pot over medium heat.  Add the sausage balls, and cook just to char the outside—3 minutes.
Move the meatballs to one side of the pot, and add the vegetables and the remaining teaspoon olive oil to the other.  Stir together, and sauté until the vegetables are soft—another 3 minutes.  Season with salt and pepper.
Add the lentils, thyme, and vegetable broth.  Bring to a boil over high heat, then cover, and reduce heat to low.  Simmer until the lentils are tender—1 hour.  Serve right away with extremely crusty bread.
print this recipe