I have this serious preoccupation with the "village perché," or the "perched village."  Down in Provence, and towards the Riviera, there are all these medieval towns, perched like eagles' nests on promontory mountainous rocks.  They are full of tiny, perfectly rectangular doorways with wood slabs doors, and footpaths made from the stones of the mountains that curve and go up and down and double back on themselves.  How quaint.  Tiny churches that you can tell the whole town once faithfully fit into.  Hanging gardens, terraces that jut out over the valley below.  It really is like having your head in the clouds–which we literally did when we visited Èze.  But the point is, I collect two things: visits to these villages, and pressed pennies (yes, it's true!).  But if I see a sign for a medieval "village perché," we have to go.
Èze
My favorite to date has been Les Baux, which I visited two years ago.  The sad truth is that so many of these villages, which once seemed to have been so self-contained, are now there for tourists.  At Èze, we saw a candy stand on the way up the mountain, and the cafés are not what you would call authentic–although, great coffee and crêpes were surprisingly available.  But the shops in Les Baux seem to actually offer something, and the views and scenery are straight out of Lord of the Rings.  It's breathtaking.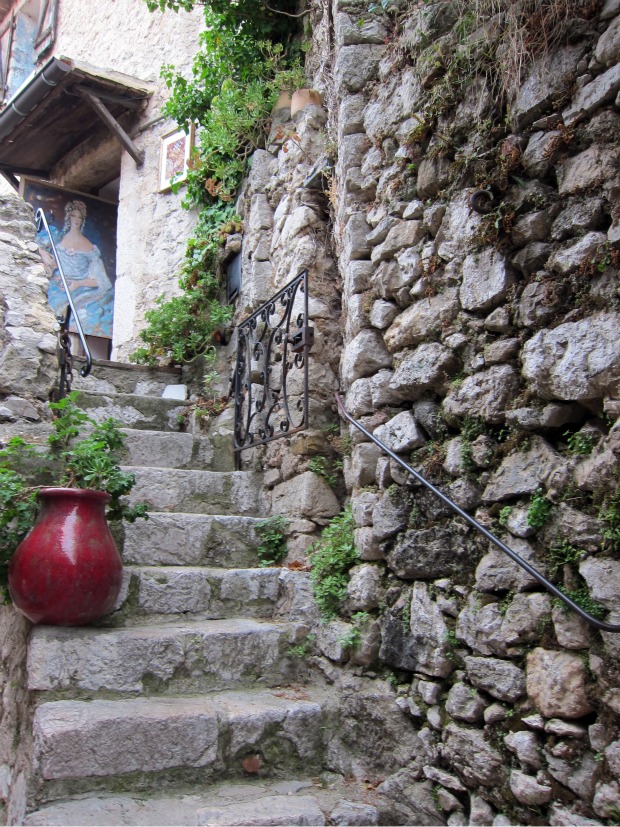 As for Èze, whose old castle is lit up gorgeously at night with floodlights, we had to go.  Just on the way home every night, we can see it, and of course, a perched village with a floodlit castle is like a siren's call to me.  The day that we went was overcast, and once we'd marched up the mountain to the town, we were literally in a cloud.  The whole town felt even more insular that it already did.  But I think what struck me most about Èze was the little courtyard on the side of the mountain where the church was.  It was the kind of church that you know the whole town went to.  And it couldn't have fit more than a couple of hundred people.  And outside, as in all French towns and city, was the memorial to the WWI dead of the town, with the WWII losses tacked on, seemingly as an afterthought, around the WWI list.  What struck us was the repeat of names: six from one Asso family.  My mom turned to me and asked, do you think that was the end of the whole family?  I just imagined what life must have been like in these tiny town, so recently untouched and almost medieval, and then to either have to leave to go out into such a scary world, or remain back and watch people leave from such a small, tight-knit community.  Well–as a New Yorker from this day in age, I don't think I can really relate, and it was that distance that I found so special about Èze.  So much has changed so quickly.  Although, I did think to myself about how I had walked by my old NYC apartment building, where I grew up, and saw plaques on the garden wall to our neighbors lost on 9/11–and I thought, maybe things aren't so different between a small town and a big city, or the twentieth and twenty-first centuries.  We all make communities for ourselves, and find ourselves in wars we can't imagine having started.
Peille & Peillon
The next day, we drove to Peillon, a teeny, tiny village perché whose town ordinance forbids any kind of tourist shop–which has kept it perhaps a true village perché, frozen in time and place.  It was there that I found the answer to my mom's question.  As we were touring the empty streets, if you can call them streets, I looked up into the metal window in a wooden door to see a kitten clinging mischievously to the inside.  I walked over to coo at it, and it jumped back into the house.  On the door, was a For Sale sign, by a certain couple by the name of Asso.  We looked at each other in shock–even though six had died in the war, two with the same first name, and one with a girl's name, they had lived on.  True French resilience.
View from Peille and Peillon
Biot
And though I was inexplicably in a stormy mood, we carried on to Biot, where my mother likes to buy ashtrays.  It is a pottery stronghold, and if you are a smoker, which I am not, I suppose you will appreciate that they make special ashtrays that allow you to smoke outside without the ashes ever getting blown around.  Something to check out.  But there, I found gorgeous matelassé place mats and olive wood salad servers for my new apartment.  Because, I did hear Nate Berkus say that you should fill your home with beautiful things collected from your travels.  So I felt no guilt!
La Turbie
In terms of eating between these villages, there was crêpes with lemon and sugar and café noisette (espresso stained with milk to the color of hazelnuts) in Èze.  In Biot, I took out a soggy slice of pissaladière I had bought at the boulangère in La Turbie–delish.  And then I bought a gorgeous tart, filled with a kind of pistachio frangipane, topped with fresh raspberries and the slightest drizzle of honey.  And then for dinner, back to La Turbie to the locally famous Café de la Fontaine, which has a changing menu.  I had veal stewed à la Provençal with olives and demi-glace, with homemade tortellini, and an artichoke salad.  It was there that I sat next to and spoke with a chef from a restaurant in Nice, but he was so long-winded, even more loquacious about food than I am, that I even grew bored and decided that's a story for another time.
Café de la Fontaine: 4 Avenue du Général de Gaulle, 06320 La Turbie, 04 93 28 52 79
The bakery, Mr & MME Degot, is just down the street