Welcome Daily Candy visitors!  I am beyond thrilled today that DailyCandy is featuring French Revolution in its national edition–in time to get us all ready for Bastille Day next Thursday.  In the DailyCandy newsletter and on the website, you can find my videos for easy, simple, chic, fun bistro recipes that anyone can make in any kitchen under any circumstances.  We all want to be a little bit French, so next Thursday, invite over your closest amies and make them a Paris dinner of Black Forest Croque Monsieur smothered in bubbling Gruyère, a crisp homemade profiterole stuffed with a giant scoop of strawberry ice cream and deluged with dark chocolate sauce, and to toast, a frozen Kir Royale made with cassis sorbet, black currant vodka, and pink champagne.  Here are the recipes to go with the videos.  So you can go out, and be French for a day.
Watch the Profiterole video on DailyCandy!

Traditional profiteroles are cream puffs: little shells stuffed with pastry cream and drizzled with runny chocolate sauce.  Delicious.  But my version are made for summer: easy-as-pie homemade puffs, stuffed with bought strawberry ice cream (or you could go double-chocolate, or pistachio, or vanilla, or a traffic-light combination), doused in a super-thick dark chocolate sauce.  The best chocolate-covered strawberry meets ice cream sundae meets Parisian dessert you ever put in your mouth.  Bon app!
Thanks for visiting.  Please do come back often.  I am currently writing my first book of simple, chic, streamlined French recipes.  And be sure to check out our Working Girl Dinners, a series of video recipes for novice after-work cooking for one or two that I promise anyone can pull off.
French Revolution's Facebook Page Twitter: @FrenchRev
Chocolate-Covered Strawberry Ice Cream Sundae Profiteroles
serves 4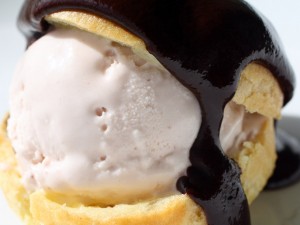 INGREDIENTS
½ cup water
½ stick unsalted butter, room temperature
1 tablespoon granulated sugar
Pinch salt
½ cup unbleached all-purpose flour
2 eggs, room temperature
1 pint strawberry ice cream (recommended: Haagen Dazs Five)
½ cup heavy cream
3.5 ounces 70% dark chocolate
PROCEDURE
Preheat the oven to 400°F.  In a saucepot over high heat, add the water and butter, sugar and salt.  Cover, and bring to a boil.
Take the pan off the heat, and add in all the flour at once.  Stir the mixture with a wooden spoon until the flour absorbs all the water.  Return the pot to low heat, and continue stirring for 30 to 60 seconds, until the dough forms a ball, and pulls away from the sides of the pot.
Turn the dough out into a medium bowl.  (Soak that pot now, thank me later!)  Add one egg, and stir vigorously with the wooden spoon until it is completely absorbed and the dough is smooth.  Repeat with the second egg.  The dough will be smooth and sticky.
Use an ice cream scoop to make 4 equal mounds of dough on a Silpat-lined baking sheet.  Dip your finger in water, and pat down any rough edges that might burn in the oven.  Bake at 400°F for 10 minutes, then lower the heat to 350°F for another 40 minutes, until the profiterole shells are puffed, golden, and crisp.  Carefully remove the shells to a rack to cool, and gently puncture the bottom of each puff with a skewer to let any steam escape.
When the profiteroles are completely cooled, take the ice cream out of the freezer to defrost.
Make the chocolate sauce by whisking together the cream and chocolate over medium-low heat, until thick, shiny, and melted.  Use a serrated knife to slice each profiterole in half horizontally, then sandwich the shell around a big scoop of strawberry ice cream.  Pour chocolate sauce over the profiteroles, and eat greedily.
NOTE
If you want to thin out your chocolate sauce, add 1 tablespoon very hot water from the tap.
print this recipe