Chocolate-Covered Strawberry Ice Cream Sundae Profiteroles
serves 4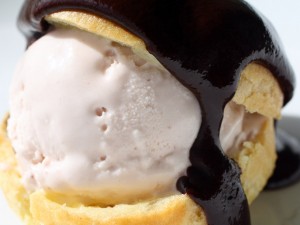 INGREDIENTS
½ cup water
½ stick unsalted butter, room temperature
1 tablespoon granulated sugar
Pinch salt
½ cup unbleached all-purpose flour
2 eggs, room temperature
1 pint strawberry ice cream (recommended: Haagen Dazs Five)
½ cup heavy cream
3.5 ounces 70% dark chocolate
PROCEDURE
Preheat the oven to 400°F.  In a saucepot over high heat, add the water and butter, sugar and salt.  Cover, and bring to a boil.
Take the pan off the heat, and add in all the flour at once.  Stir the mixture with a wooden spoon until the flour absorbs all the water.  Return the pot to low heat, and continue stirring for 30 to 60 seconds, until the dough forms a ball, and pulls away from the sides of the pot.
Turn the dough out into a medium bowl.  (Soak that pot now, thank me later!)  Add one egg, and stir vigorously with the wooden spoon until it is completely absorbed and the dough is smooth.  Repeat with the second egg.  The dough will be smooth and sticky.
Use an ice cream scoop to make 4 equal mounds of dough on a Silpat-lined baking sheet.  Dip your finger in water, and pat down any rough edges that might burn in the oven.  Bake at 400°F for 10 minutes, then lower the heat to 350°F for another 40 minutes, until the profiterole shells are puffed, golden, and crisp.  Carefully remove the shells to a rack to cool, and gently puncture the bottom of each puff with a skewer to let any steam escape.
When the profiteroles are completely cooled, take the ice cream out of the freezer to defrost.
Make the chocolate sauce by whisking together the cream and chocolate over medium-low heat, until thick, shiny, and melted.  Use a serrated knife to slice each profiterole in half horizontally, then sandwich the shell around a big scoop of strawberry ice cream.  Pour chocolate sauce over the profiteroles, and eat greedily.
NOTE
If you want to thin out your chocolate sauce, add 1 tablespoon very hot water from the tap.
print this recipe