I proudly declare this month's Secret Ingredient over in my column on Serious Eats to be Mango Chutney.  It used to be something I despised, but after all my time in the UK with Mr. English, I have found, and I think you'll agree, that the sweet jammy vinegariness of this gorgeous, chunky condiment makes it like nothing else.
Get the whole story on Serious Eats.
If imitation is the sincerest form of flattery, then I don't feel so bad about being a copy-cat. Around the corner from where my English boyfriend grew up is a recently reinvigorated gastropub. The beers and ciders are to be expected; but the foie gras toastie, less so.
If you're wondering what a "toastie" could be, it's just a cutesy English name for a grilled cheese sandwich. At this gastropub, the toasties are all stuffed with melting, oozing English cheddar, and a variety of accents: foie gras, for example; spring onions; or, my favorite, mango chutney.
Mango chutney, a chunky condiment from India and Pakistan that is found everywhere in the UK, is made from raw, green mangoes, which explains some of that tart, almost citrusy flavor. Mango chutney is sweet, but also quite savory, with whole spices, and tart, with vinegar. The combination is perfect with melting cheese. The sweetness of the fruit works in that same way of cheese plates with grapes, and the tartness cuts through the fattiness of the cheese. The chutney and the cheddar, squeezed together between two crusty toasted slices of bread, is the perfect snack. And I don't have to walk around the corner to the pub.
Cheddar and Chutney Toasties
makes 1 sandwich (multiply at will)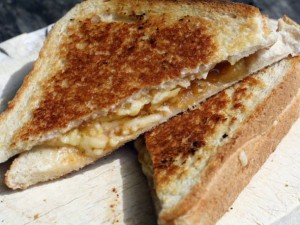 INGREDIENTS


Unsalted butter, room temperature


2 slices white sandwich bread


2 teaspoons mango chutney*


1/4 cup shredded mature white cheddar cheese


PROCEDURE
Lightly butter one side of the bread. Smear the unbuttered side of each slice of bread with 1 teaspoon mango chutney. Pile the cheese in the center of one slice of bread, with the butter on the outside of the sandwich, and top with the other slice of bread, also butter side out.
Heat a wide saute pan over medium-low heat. Toast the sandwich for 4 minutes on the first side, or until the bread is golden and crisp and the cheese begins to melt. Use a spatula to flip the sandwich over, and toast another 4 minutes. The cheese should be totally melted. Cut the sandwich in half on the diagonal, and serve immediately.
NOTES
Buy good chutney.  Cheap chutney can be very vinegary, and not nice.
print this recipe