In honor of Bastille Week here on French Rev, I'm doing a francophile Working Girls this week.  I surveyed some of my friends who inspired the series, and they told me they did sometimes want to learn how to make something that intimidated them, and mussels were mentioned in that category.  We can't have that!  We can't have brains and beauty dwarfed by brawn!  Flexing your mussels in the kitchen is one of the easiest things you can do.  Mussels are cheap, they are so easy to make that you literally can't mess them up, and they look so gourmet.  And they cook in one pot in under 10 minutes.  They also have that great, but rarely seen, dichotomy of being stewy and comforting while being light enough for summer.
Moules Marinière, or mussels in the sailor's style, is the classic–white wine, onion, garlic, a bit of thyme, and a stir of cream.  The broth is gorgeous, you soak it up with some whole wheat baguette.  And in the video, I show you how my stepfather from Normandy, home of this dish, taught me to use mussels shells instead of a fork to eat these babies.  Pretty nifty trick.
The point is, there is no reason to be intimidated by mussels.  If you fear seafood, this one comes with a simple rule: BEFORE COOKING, THROW AWAY OPEN MUSSELS.  AFTER COOKING, THROW AWAY CLOSED MUSSELS.  If you follow that rule, you'll know that any mussel opened after cooking is cooked and safe to eat, and you won't run into trouble.  Now get out there and flex those mussels!
Moules Marinière
serves 2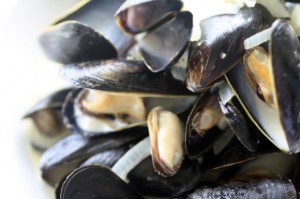 INGREDIENTS


2 pounds mussels


4 teaspoons olive oil


1 Spanish onion, chopped


6 cloves garlic, minced


Salt and pepper


8 stems thymes, leaves plucked and chopped


1 cup dry white wine, like Sauvignon Blanc


1/2 cup heavy cream


Bread for dipping (a must!)


PROCEDURE
An hour before you want to make your mussels, put them in a big bowl filled with water and a heaping spoonful of flour.  Put the bowl in the fridge until you're ready to work with the mussels.  This just ensures that the mussels spit out any sand they might be chewing on before they go into the pot.
When you're ready to make the mussels, drain the mussels from the water, and rinse off the flour.  If any mussels are open, throw them out.
Preheat a large pan with high sides to medium heat.  Add the olive oil, and the onion and garlic.  Season with salt and pepper, and sauté, stirring often, until the onions are soft, fragrant, and translucent: about 4 minutes.
Add the wine and thyme and mussels to the pot, and season again with salt and pepper.  Leave the heat on medium, and cover the pot.  Leave the pot alone: once all the mussels have opened, after about 5 minutes, the dish is done.  If any mussels are still closed, throw them out.
Take the pan off the heat, and stir in the heavy cream.  Serve with bread!
Note
Just double the recipe for 4!
print this recipe