There are times for frilly, doily-edged tarts.  For desserts that come after a meal and before you stop eating.  That is not what I want right now.
Now, I feel like something so naughty, I will grin about it and blush afterwards.  I want to throw caution to the wind, exchanging an extra pound for ten minutes of sweet, conscientiously and deliciously deliberate sweet tooth pleasure.  I don't want to sit down with a fork and a tiny prim plate.  I want to stand in front of the fridge, not with a spoon, but with a ladle, and INDULGE.  Not because it's after dinner.  Not because I'm hungry.  But because it's too damn good to put down.
So I start with Eton Mess, than English dessert made from strawberries, cream, and crusted meringue.  And then I knock it around a little, turning it from strawberries and cream to the blue-purple-black of a bruise.  Blackberries and blueberries, instead of strawberries.  Crumbled meringues (for the requisite sweetness, crunch, and body).  And then whipped cream punched up with crème de cassis, black currant liqueur.  The juices of the berries start to run.  There is that little bite from the liquor.  The cream is fluffy and the meringues are fluffy.  You can make just this amount, and eat the whole thing, or quadruple it, and smash it into a trifle bowl.  The result is mayhem.  Whipped cream on your nose.  Berry juice on your clothes.  Bacchanalian diet disaster.
It's so good.
This recipe and excerpt is from my weekly column Franglais at The Huffington Post.  Click here to get the whole story.
Black Bruised Berry Meringue Mash
serves 2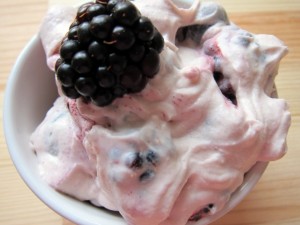 INGREDIENTS


½ cup heavy cream


1 tablespoon plus 2 teaspoons granulated sugar


1 tablespoon crème de cassis


¾ cup roughly crumbled meringue (about 1 crumbled meringue nest)


½ cup blackberries


½ cup blueberries


PROCEDURE
Use a hand mixer to beat the cream to soft peaks.  Add the sugar and crème de cassis, and beat until just stiff enough to be called whipped cream.
Use a silicone spatula to fold the meringue and berries into the cream.  Use the tip of the spatula to smash a few berries.  Spoon the mixture into two glass dessert cups or ramekins.  Serve!
print this recipe