I love burgers.  But I hate myself afterwards.  What feels good in the act always leaves me feeling sick, full, and out of control.  So I consider my love of fish sandwiches, fish burgers, I call them, to be a badge of maturity.  They are semi-responsible, quasi-high brow fast food.  And I love them.  I love the crispy edges of the fish.  And the way the salty mayonnaise from the tartare sauce melts and pools in the ravines of the flaky fish flesh.  I love the soft bun.  And the way it inevitably gets soggy and falls apart.  Why do I always think I need bad boy burgers?  This is my love letter to fish sandwiches.  Because, after all, fish sandwiches are kind of like choosing to have a one-night stand with the right person.  Maturity that leads to love, rolled into one perfectly wax paper-wrapped package.
This recipe is a testament that good habits can be far more fun than the bad ones.  I noticed last week that French McDonald's offers not one, but two, incarnations of the famed Filet-O-Fish.  And, I thought, I can make this better.  A burger alternative that I can feel good eating, and feel good about afterwards.  This is my Frenchified version of a classic fish sandwich.  It's simple.  I dust a good, flat fish lightly in flour and a mixture of dried fines herbes: chervil, parsley, chives, and tarragon.  The almost sweet, licorice quality of these particular herbs pair beautifully and delicately with the almost sweet, barely salty aspect of the fish.  It's lovely.  I shallow fry the fish until the edges are crisp as fries, and the fish is golden all over.  Then, I pile the fish with leaves of romaine on toasted baguette, and slather it with a homemade tartare sauce that uses fresh fines herbes to the same sweet, delicate effect, and French cornichon pickles for salt and crunch.  It has all the familiar aspects, the mayonnaise and pickles from the tartare sauce, the bread, the fish.  But I like this delicate version.  Without breading, you can really taste the beautiful fish, and the tarragon and chervil add such a simple, but different, aroma and flavor.  The baguette is crusty, and hearty, in contrast to the almost lacy flavors from the rest of the sandwich.  McDo, take note.  Chances are one bite just might turn this one-dinner stand into a long, loving, and monogamous relationship.
My French Filet O Fish
serves 2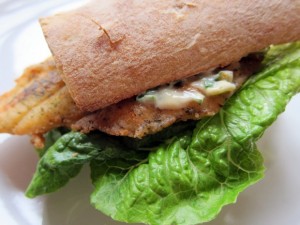 INGREDIENTS


Vegetable oil for frying


2 7 to 8-ounce fillets of think white fish, like plaice, boneless and skinless


½ tablespoons dried fines herbes (a mix of dried parsley, chervil, tarragon, and chives)


Kosher salt


Freshly cracked black pepper


½ cup all-purpose flour


½ a baguette


⅓ cup good French mayonnaise


1 teaspoon Dijon mustard


2 tablespoons finely diced cornichons


1 tablespoon roughly chopped flat leaf parsley


1 tablespoon roughly chopped chervil (if you can't find chervil, use parsley)


1 tablespoon roughly chopped tarragon


1 tablespoon roughly snipped chives


4 leaves of Romaine lettuce


PROCEDURE
Preheat the broiler.  Heat 1 inch of vegetable oil in a nonstick sauté pan over medium-high heat.
Season the fish with salt, pepper, and the dried fines herbes.  Dredge the fish in flour, and shake off the excess.  Dip a wooden spoon in the hot oil; if bubbles form around the wood, the oil is hot enough to fry.  Fry the fish 5 to 6 minutes on the first side, then turn over with a fish spatula, and fry another 2 to 3 minutes.  The fish should be crispy and golden on both sides.  Drain on paper towel.
Cut the half baguette in half horizontally, and then in half vertically.  Place the cut bread pieces, cut side up, on a baking sheet, and toast under the broiler until golden.  Set aside.  In a medium bowl, stir together the mayonnaise, mustard, cornichons, and fresh herbs, and season with salt and pepper.  Smear all the pieces of bread with the tartare sauce.  Stack the sandwich with lettuce and crispy fish.  Serve right away.
print this recipe