My French Filet O Fish
serves 2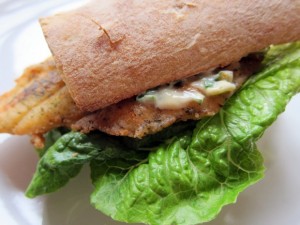 INGREDIENTS
Vegetable oil for frying
2 7 to 8-ounce fillets of think white fish, like plaice, boneless and skinless
½ tablespoons dried fines herbes (a mix of dried parsley, chervil, tarragon, and chives)
Kosher salt
Freshly cracked black pepper
½ cup all-purpose flour
½ a baguette
⅓ cup good French mayonnaise
1 teaspoon Dijon mustard
2 tablespoons finely diced cornichons
1 tablespoon roughly chopped flat leaf parsley
1 tablespoon roughly chopped chervil (if you can't find chervil, use parsley)
1 tablespoon roughly chopped tarragon
1 tablespoon roughly snipped chives
4 leaves of Romaine lettuce
PROCEDURE
Preheat the broiler.  Heat 1 inch of vegetable oil in a nonstick sauté pan over medium-high heat.
Season the fish with salt, pepper, and the dried fines herbes.  Dredge the fish in flour, and shake off the excess.  Dip a wooden spoon in the hot oil; if bubbles form around the wood, the oil is hot enough to fry.  Fry the fish 5 to 6 minutes on the first side, then turn over with a fish spatula, and fry another 2 to 3 minutes.  The fish should be crispy and golden on both sides.  Drain on paper towel.
Cut the half baguette in half horizontally, and then in half vertically.  Place the cut bread pieces, cut side up, on a baking sheet, and toast under the broiler until golden.  Set aside.  In a medium bowl, stir together the mayonnaise, mustard, cornichons, and fresh herbs, and season with salt and pepper.  Smear all the pieces of bread with the tartare sauce.  Stack the sandwich with lettuce and crispy fish.  Serve right away.
print this recipe