One thing (one of the many things) I love about France is the way the French Frenchify everything that they can't already lay claim to.  Last week on my blog, I wrote about how the French have even managed to Frenchify McDonald's into the one and only McDo.  But aside from colonizing American fast food, the French have a funny little way of smuggling pasta away from the Italians and turning it decidedly French.
In the South of France, pasta is on every menu.  And not surprisingly.  When I was in Menton a few weeks ago, I could walk to Italy.  The Southerners have a huge predilection for tagliatelle, tossed with, truly, very French sauces.  No marinara or pomodoro in sight.  I saw tagliatelle tossed with Roquefort and cream, with mushrooms, with Provençal red pistou instead of the Italian pesto—which inspired my tagliatelle with yellow zucchini flower pistou.  I had penne topped with a huge scoop of leftover ratatouille.  And had ratatouille baked into lasagna, slathered with an oozing, collapsing layer of mozzarella mixed with toasty Gruyère.  The trend seems to be to take French condiments, or in the case of the mushrooms, traditional French flavor combinations like Forestier, and just toss them over pasta.  And it really works.  I love pasta.  With this, it's like coming back to you home as a child, and realizing that there was a whole attic you had never discovered before where you could play for hours on end without losing an ounce of fascination.
In my next interpretation of this very easy, cheap, and best of all delicious attic foray, I toss campanelle pasta with caviar d'aubergines.  Caviar d'aubergines, or eggplant caviar, isn't caviar at all, but instead is a garlicky spread, made from charred eggplants, puréed until smooth and thick, and accented with a touch of vinegar, olive oil, and sometimes a bite of chili.  It is so good.  Mr. English and I have a tradition whenever we're in France, where we buy a container of the stuff premade, and a baguette, and plop down in the nearest pretty place for an immediate picnic.  For this version, I purée roasted garlic, basil, and a touch of chili with the eggplant, and toss it over trumpets of campanelle pasta, studded with toasted little pine nuts and laced with strings of fresh basil.  It's so unusual, and hearty, and you could even serve it to vegans.  Plus, the one thing I really took to heart when I was in France this summer is how much fun it is to cook seasonally.  There, you don't have much of a choice: frequenting markets means you make do with what's on offer.  Eggplant is in season in the late summer, along with basil, so now is the time when this dish is cheapest and best.  Don't waste another second!
This story and recipe are excerpted from my weekly column French in a Flash on Serious Eats.  Click HERE for this post.
Campanelle with Eggplant Caviar
serves 2 to 4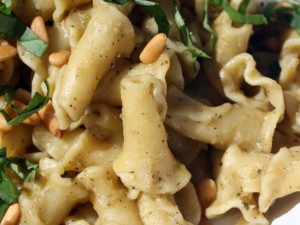 INGREDIENTS


2 pounds eggplant (about 2 large eggplant)


Kosher salt


1 head garlic


4 tablespoons olive oil, divided, plus more for garnish


2 teaspoons white wine vinegar


10 leaves basil, plus more for garnish


A pinch of chili flakes


Freshly cracked black pepper


1 pound campanelle pasta


1/4 cup pine nuts, toasted


PROCEDURE
Preheat the oven to 500 degrees F.  Cut the tops off the eggplant, and cut the eggplant in half lengthwise.  Sprinkle the cut surfaces of the eggplant with 1/4 teaspoon of salt, and leave in a large colander in the sink to drain for 30 minutes.
Cut the top fifth off the head of garlic, and wrap the garlic tightly in foil.  Place the garlic in the oven.
Once the garlic has been in the oven and the eggplant has drained for 30 minutes, pat the eggplant dry and toss the eggplant halves with 1 tablespoon olive oil.  Place the eggplant cut side down on a parchment-lined baking sheet.  Place the eggplant with the garlic in the oven, and roast for 30 minutes (the garlic will roast for a total of 1 hour), until the eggplant flesh is completely soft.
Bring a large pot of salted water to boil for the pasta.  Once the eggplant and garlic have come out of the oven, scoop the flesh away from the skin of the eggplant, and place the flesh in a mesh colander over the sink to remove any excess liquid.  Squeeze the roasted garlic into a food processor, and add the drained eggplant.  Add 3 tablespoons of olive oil, the vinegar, basil, chili flakes, and salt and pepper to taste.  Run the machine until the eggplant mixture is smooth and velvety.  Set aside.
Cook the pasta until just al dente, and reserve a cup of pasta water before draining.  Add the pasta back to the pot, and add the eggplant caviar, a half a cup at a time, until you've dressed the pasta thoroughly, but lightly.  You may add some of the reserved pasta water, spoonful by spoonful, to thin out the sauce if necessary.  Put the hot pasta in a big bowl, and top with the pine nuts, ribbons of fresh basil, and an extra drizzle of olive oil.  Serve right away, next to grilled fish, or on its own.
print this recipe