Right now, all I want to do is eat outside.  Al fresco.  En plein air.  It's summer, but it's also August, which means summer's a temporary situation.  And I'm not one to let anything pass, a sample sale or a season, without taking full advantage.
I live on a little garden, and I've been making picnic foods for most of my meals.  Taking them outside, sitting on my blanket made out of sweatshirt fleece, and feasting.  This recipe is simple enough, and maybe it's not the first time you've seen something similar, but it's all I've wanted, cold and fresh, accompanied by icy champagne and lazy conversation.
My inspiration was Boursin, a family favorite in our house: a crumbly, creamy cheese studded with fresh herbs and garlic.  I roll fresh chèvre cheese into a round, and roll it in chopped fresh basil, purple basil, mint, parsley, chervil, chives and thyme.  And some grated garlic.  You can use whatever fresh herbs you fancy.  Then, I get a knife, and some multigrain baguette, and get eating.  C'est tout.  Perfect for déjeuner, or dîner, sur l'herbe.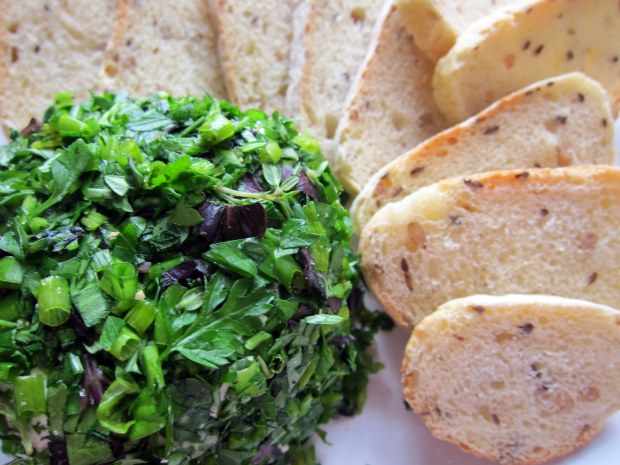 This story and recipe are excerpted from my weekly column French in a Flash on Serious Eats.
Herby Goat Cheese
serves 6 to 8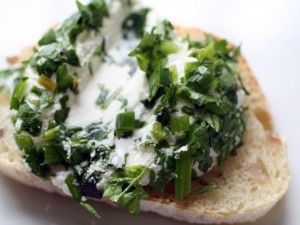 INGREDIENTS


9 ounces fresh goat cheese, room temperature


1/3 cup chopped fresh herbs, like parsley, chervil, chives, mint, basil, purple basil


1 small clove garlic, grated


Salt and pepper to taste


1/2 multigrain baguette, sliced into 1/4-inch rounds


PROCEDURE
Spray a ramekin with nonstick spray, and line it with plastic wrap.  Smooth the goat cheese into the ramekin, pressing down to form it to the shape of the little bowl.  Cover with plastic wrap, and refrigerate 1 hour.
Mix the herbs, garlic, salt and pepper.  Unmold the cheese, and press the herb mixture so it sticks on all sides of the cheese.  Set the herbed cheese on a plate, and scatter the multigrain baguette slices all around.  Allow to come to room temperature for 15 minutes, and serve.
print this recipe