Okay, so strictly speaking, this recipe does not use Dijon mustard. But if we change this month's ingredient to Mustard from Dijon, then this still counts. These green beans make use of old-fashioned mustard (moutarde à l'ancien) from Dijon, and I've always loved the name "moutarde à l'ancien" because it makes it sound like it's the true, original Dijon mustard.
The truth of the matter is, I hardly ever use one without the other. I add a spoonful of Dijon mustard for creaminess, and spice, and then a spoonful of whole grain mustard for texture and visuality. Whole grain mustard from Dijon has a very similar flavor profile to Dijon mustard—the tang and acidity of the wine, the spice of the mustard, but the mustard seeds are left whole, and so it has that crunch, and the beautiful look of being studded with golden mustard seeds.
I was inspired to make my own version of this dish after seeing something similar in a French cooking magazine. Warm blanched haricots verts, tossed in a warm vinaigrette of soft shallots, olive oil, white wine vinegar, and grain mustard. I love that the white wine vinegar serves to enhance the acidity of the white wine within the mustard, giving the salad a new-pickled quality. The shallots, and even the chervil on top, are somewhat sweet, and counter that acidity. It is so good, if you're looking for a different kind of vegetable, look no further. This is my holy vegetable grail.
The recipe and writing are excerpted from my weekly column The Secret Ingredient on Serious Eats.  Click HERE for this post.
Warm Green Bean Salad with Shallots and Mustard
serves 4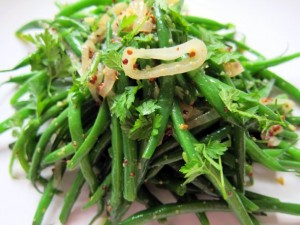 INGREDIENTS


Kosher salt


7 ounces trimmed haricots verts


1 1/2 tablespoons olive oil


1 shallot, thinly sliced


1 1/2 teaspoons white wine vinegar


1 teaspoon grain mustard


Black pepper


1 tablespoon fresh chervil, torn


PROCEDURE
Bring a pot of water to boil, salt the water, and blanch the haricots verts for until tender, about 3 minutes.  Drain.
Put the pot back on medium-low heat, and once the pot is dry, add the oil.  Add the shallots, and sauté, stirring often, until just soft and fragrant, but not golden, about 4 minutes.  Add the vinegar, mustard, and black pepper.  Stir to incorporate all the ingredients.  Add the haricots verts back to the pain, and toss with the warm vinaigrette.  Plate the beans, and top with the chervil.  Serve hot, warm, or at room temperature.
print this recipe