I think, since Dijon mustard is a French invention, that it's only appropriate to use it in a French preparation.  Steak with butter.  Genius.  Tender, but firm, meat, dripping in rivulets of melting cream-sweet, soft butter, that contrasts but complements the meat in flavor and texture.  Heart stopping in more ways than one.
French steaks are often seared in butter, and one way to serve them is with Beurre Maître d'Hôtel: coins of cold butter, flavored with garlic, parsley, and lemon, left to melt on top of hot seared steaks.  I can't tell you how simple but perfect it is.  I tried flavoring the butter with mustard, instead of herbs and garlic, and the result is a steak that is flavored not only with the sweet cream of butter, but also with the tangy bite of white wine, and the acidic, spicy whip of both Dijon and whole grain mustards.  Again, simple, but heart stopping.  Maybe even better than the prototype.  I like to serve two little round medallions of tenderloin per person, with simple steamed new potatoes to soak up the butter and the juices that escape from the meat.  Carnally satisfying.
Filet Mignon with Mustard Butter
serves 4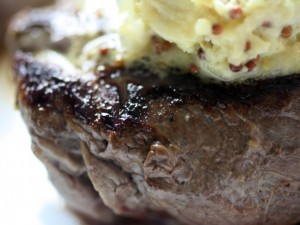 INGREDIENTS


4 tablespoons unsalted butter, at room temperature


2 teaspoons Dijon mustard


2 teaspoons grain mustard


8 1/4-pound tenderloin medallions, room temperature


Vegetable oil


Kosher salt


Freshly cracked black pepper


PROCEDURE
In a bowl, mix together the soft butter and both mustards.  Form a log about two inches in length, and roll it in plastic wrap to make a perfect, round log shape.  Refrigerate until set—about 1 hour.
Take the butter out of the fridge.  Preheat a cast iron skillet over high heat.  Drizzle the meat very lightly with vegetable oil, and rub the meat so it is completely, but lightly, coated in the oil.  Season the meat very well with salt and pepper on all sides.
Place the meat medallions in the hot cast iron pan (depending on the size of your pan, this may be done in two batches).  Sear until a dark brown crust is formed on the first side—about 8 minutes.  Turn the medallions over, and cook until the internal temperature just reaches 130 degrees F, about another 4 to 5 minutes.
Place the medallions on a serving platter, and slice the log of mustard butter into 8 coins.  Place one coin of butter on top of each piping hot steak, and let it melt while the steak rests.  Serve immediately, with some baguette or plain steamed potatoes to dredge up the extra butter and meat juices.
print this recipe