I just made these for dinner from some scraps lurking in my fridge.  So good and buttery and summery fresh.  Perfect with pinot grigio.  Delish.
Avocado and Tomato "Canapé" Toasts
makes 9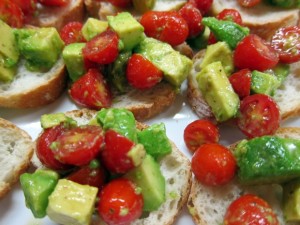 INGREDIENTS


1/2 baguette, sliced in 1/2-inch slices


1/2 Haas avocado, small diced


20 grape tomatoes, halved


1 tablespoon olive oil


Juice of 1/8 lemon


Salt and pepper


PROCEDURE
Preheat the oven to 350 degrees F.  Place the baguette slices in a single layer on a baking sheet, and toast until crisp--8 to 10 minutes.
Meanwhile, toss together the avocado, tomato, olive oil, lemon juice, salt, and pepper.  Pile the salad on the baguette toasts, and serve!  Done and done.
print this recipe