I was hungry and grumpy (when are those two ever seen apart?) at the Nice airport a few weeks ago.  I couldn't find a McDonald's, so I figured it was high time I tried the other fast food in France: Quick.
I scanned the menu for something different.  I didn't come all the way to France to eat the same ol' chicken nuggets I've been eating since I was five.  I spied something on the menu: Boursin balls, crispy fried little nuggets of creamy cheese.  Like a mozzarella stick, but round, and instead of stringy, mild cheese, Boursin is creamy and fiery with garlic and herbs.  Of course, they were dangerously addictive.  The Boursin was so full of flavor, I needed a toothbrush for my flight.  The outside crust of breadcrumbs was crisp, and like an eggshell, it cracked to let the warm, soft cheese ooze out into my mouth.  Hungry and Grumpy were banished back to wherever they came from, not to be seen or heard from again.  Until I touched down in Toulouse, and spotted the cassoulet.
When I was a little girl in school, when the other little girls would copy each other, and one would shout, "Copycat!", the other would turn very calm and mature and recite, "Copying is the most sincere form of flattery."  So, I am flattering Quick.  This is my version of Crispy Fried Boursin Balls, a smash up of Garlic and Fines Herbes Boursin, that you buy at the supermarket, shredded mozzarella, for gooeyness, and cream cheese, to bind everything together in creamy deliciousness.  I roll the balls in egg white and fine bread crumbs, and fry them for just a minute.  They are crisp, soft, and so flavorful from that Boursin.  I made 15, and it took far fewer than 15 minutes for them to get devoured.  These are perfect for cocktails, or for watching a game, or for a grown-up "after school" snack.  Bon app.
Excerpted from my weekly column "Franglais" on The Huffington Post.  Click HERE for this post.
Crispy Fried Boursin Cheese Balls
makes 15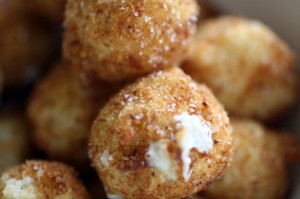 INGREDIENTS


1 5.2-ounce box of Boursin cheese, garlic and herbs flavor, room temperature


½ cup grated part-skim mozzarella


1 ounce cream cheese, room temperature


¼ cup flour


1 egg white, beaten with 1 tablespoon water


⅓ cup breadcrumbs


Canola oil, for frying


Kosher salt, for seasoning


Procedure
In a medium bowl, smash together the Boursin, mozzarella, and cream cheese.  Use a 1 ¼-inch ice cream scoop to shape out little rounds of the cheese mixture, and place them on a small rimmed baking sheet lined with wax paper.  Freeze for 45 minutes to an hour.
Fill a small pot with at least 3 inches of canola oil, and heat the oil to 360°F.  While the oil is heating, bread the cheese balls.  Place the flour, egg white and water mixture, and crumbs in three separate small bowls.  Dredge each ball lightly in flour, lightly in eggwash, and finally lightly in bread crumbs.  Set aside.
Once the oil has reached 360°F, fry the cheese balls, 3 at a time, for about 1 minutes, until the outside crumbs are golden brown and crisp, and the cheese is just starting to melt and break through.  Drain on a paper towel.  Repeat with the remaining cheese balls.  Sprinkle the whole lot lightly with salt, and serve piping hot and oozing.
print this recipe