Discovering eggplant tian is like sending the man you love out for a makeover, and then having him return ten times more handsome than he was to begin with.  Eggplant Parm is wonderful.  I've been eating it since I was six years old.  It's comfortable as flannel pajamas and a DVR on a Friday night.  But it's fattening.  It doesn't look so hot on the plate.  And after twenty-two years of devotion, it's time to spice things up.
Eggplant Tian, my new and improved Eggplant Parm, comes from Provence, the land where eggplant is king.  Kind of like our New York-style Eggplant Parm, it is made with slices of eggplant, tomato sauce, and cheese.  But instead of being breaded and fried, the eggplant is sweet and softly roasted.  Instead of just mozzarella, the tian can be topped with Gruyère or Valbreso or any number of gooey, salty cheeses.  And most notably, tians are named for the dishes in which they are baked, round or oval porcelain gratin dishes.  Which adds a lot to the look of the dish, turning an Italian takeout classic to an elegant French dinner.
This version has a few steps, but is the easiest way I've ever found to make eggplant tian.  I roast the eggplant in a vinaigrette of olive oil and garlic (very Provençal) tempered with balsamic vinegar, which sweetens the eggplant as it roasts.  Then, into the tian dishes with bought tomato sauce, and a simple topping of fresh mozzarella and Parmesan cheeses.  A drizzle of pesto or pistou over the top finishes this gorgeous vegetarian main course.  And no time is better for eggplant than right now, when they're dark and sultry and so inviting.  Gather ye eggplants while ye may—there's nothing worse than out-of-season eggplant.
Excerpted from my weekly column French in a Flash on Serious Eats.  Click HERE for this post.
Easy Awesome Eggplant Tian
serves 4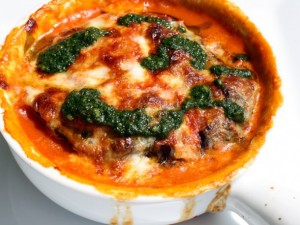 INGREDIENTS


2 large eggplants


1 teaspoon Kosher salt


1/2 cup olive oil


3 tablespoons balsamic vinegar


1 large clove garlic, grated


Freshly cracked black pepper


1 1/2 cups marinara sauce, divided


9 ounces fresh mozzarella, torn in small chunks


4 tablespoons finely grated Parmigiano Reggiano


4 teaspoons pesto sauce or pistou


PROCEDURE
Slice the eggplant into 1/2-inch rounds.  Toss the eggplant with the salt in a large colander, and allow to sit and drain in the sink for 30 minutes.
Preheat the boiler.  In a large bowl, whisk together the olive oil, balsamic vinegar, garlic, and pepper.  Without rinsing the eggplant, toss them with the vinaigrette, and let marinate for 15 minutes.  Arrange the slices in a single layer on a large nonstick baking sheet (you may need to do this in batches).  Broil for 12 minutes.  Flip the eggplant slices over with a spatula.  Broil another 12 minutes.
Heat the oven to 425°F.  Place 2 tablespoons of marinara sauce in the bottom of each of 4 round au gratin dishes.  Divide the eggplant slices among the 4 dishes.  Top each dish with 1/4 cup of marinara sauce.  Then divide the mozzarella pieces among the 4 dishes, and finally the Parmigiano Reggiano.  Place the gratin dishes on a rimmed baking sheet to catch any spills, and bake for 30 minutes until the marinara sauce is bubbling, and the cheese is melted.  Let the tians rest for 10 minutes.  Drizzle with pesto sauce, and serve.
print this recipe