Admittedly, I did mine a day early, which I why I have the recipes to show you.  My best friend and her fiancé and my parents and I all sat out on our terrace before heading out into the torrid Florida heat and hitting the beach.  Down here, anyway, I cannot imagine grilling anything.  Just being outside feels like you're searing yourself.  So, I went with sandwiches.  If it's hot by you, try this Labor Day picnic for 5.  It was so good, I had to write about it.
The Spread
Sandwiches stuffed with crispy-fried soft-shell crabs, tarragon mayonnaise, avocado, green heirloom tomatoes, and butter lettuce.  The legs of the crab are so crispy, and the center, so meaty.  I've just recently grown to love them, but what a love it is!
And with that, a riff on Ina Garten's corn salad.
Some watermelon.
And lavender iced tea.
What could be better than all that?  Special, delicious.  A treat.
Putting It All Together
My Whole Foods sells pre-fried soft-shell crabs for about $4 a piece.  Seafood shops do the same.  Get some for this sandwich.  It's Labor Day.  You don't want extra work!  Then, follow the recipe below.
For the corn salad recipe, click HERE.  My notes and changes: I added 30 halved grape tomatoes, I used 2 tablespoons of cider vinegar instead of 3, and I boiled the corn for 5 minutes instead of 3 minutes.
For the ice tea, bring a big pot of water just to a boil.  Shut off the heat, add two bags of black tea and a tablespoon of edible dried lavender flowers.  Let the tea steep and come to room temperature, pour into a pitcher, and stick it in the fridge.
Buy a quarter of a watermelon, and use a melon baller to scoop it into little balls.  It's just fun to eat it like that every once in a while.
Bon app!
Crispy Soft-Shell Crab Sandwiches
makes 5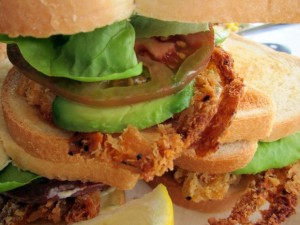 INGREDIENTS


5 pre-fried crispy soft-shell crabs


Salt


½ cup mayonnaise (preferably good French or homemade)


1 packed tablespoon roughly chopped fresh tarragon


10 slices white bread, lightly toasted and cooled


10 leaves of Bibb or Boston or Butter lettuce


½ Haas avocado, sliced very thinly*


1 green heirloom tomato, cored and sliced very thinly


1 lemon*


PROCEDURE
Preheat the oven to 500°F.  Lay the crabs in a single layer on a baking sheet, and warm and crisp for about 8 minutes.  Sprinkle the crabs lightly with salt.  Even though you will let them come to room temperature again, this revives and crisps them.
*When I slice the avocado, I drizzle it with the juice of ½ the lemon.
Stir together the mayonnaise and tarragon.  Slather one side of each piece of toast with tarragon mayonnaise.  Place a lettuce leaf on each mayonnaised sliced of bread.
Then, place the room temperature crabs on half of the bread slices.  Top with avocado slices, and then tomato slices.  Top with a lettuce-and-mayo slice of toast, the lettuce and mayo facing into the sandwich, obviously.
Serve with lemon wedges.
print this recipe