I got a bunch of requests this week for a steak recipe that doesn't include a grill.  A good idea now that we're seriously out of summer.  I love steak, but I won't be braving the January snows for it.
This recipe could not be easier.  I use beef tenderloin tips, which have all the tenderness of filet mignon, with a much lower price.  I sear them with a little bit of olive oil and rosemary right on the stove, then finish them up in the oven, and slice.  To go with them, white bean mash, flavored with a touch of olive oil, garlic, and more rosemary.  So much healthier than mashed potatoes.  And, they're really good, and different, and filling.  Consider this my convenient, healthy steak dinner, inspired but a night I spent in Tuscany, at a restaurant I stumbled into.  The steak was neared with rosemary, and the beans were cooked with garlic.  But you don't need to book a flight to Italy or fire up a grill to have great Tuscan steak.  Trust me!
Tuscan Steak with Rosemary White Beans
serves 1 to 2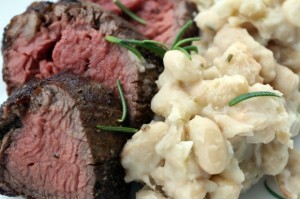 INGREDIENTS


½ pound beef tenderloin tip


Salt and pepper


2 teaspoons olive oil, divided


1 sprig fresh rosemary, plus ½ teaspoon chopped fresh rosemary


2 cloves garlic, thinly sliced


1 15-ounce can cannellini beans, drained and rinsed


2 tablespoons water


PROCEDURE
Preheat the oven to 400°F.  Take the meat out of the fridge 15 minutes before you want to use it.  Season it with salt and pepper.  Add 1 teaspoon olive oil to a sauté pan over medium-high heat.  Add the rosemary sprig and the beef.  Sear the beef 2 minutes on each of the 4 sides.  Put the meat in the oven for 6 to 7 minutes, until the internal temperature is 135°F.  Allow to rest for 10 minutes on the cutting board, and cut into thick slices.
Meanwhile, in a small saucepot, add the remaining teaspoon of olive oil over medium heat.  Add the garlic and chopped rosemary, and cook until just golden around the edges.  Add the beans and water, and season with salt and pepper.  Cover, and cook for 4 to 5 minutes, until soft.
print this recipe