I'm about to board a plane for London, where I currently live, thinking about things that go together in unlikely circumstances.  My mother always says that when two things find each other that go together well, they should never be apart.  True to her command, I live in London because that is where my heart is, but it is a VERY unlikely circumstance.
My mother would similarly advise that brie and avocado shouldn't be apart.  Whatever it takes, they must be together.  Mild in flavor, richer than Richie Rich, they are two sides of the same buttery coin.  Together they form this simple gooey mess that manages to feel light and fresh.  Deceiving, but delicious, and I'll take it.
Wrapping brie and avocado together in an eggroll blanket, and deep frying them, may appear to be an unlikely circumstance, but once you see the way the brie and the avocado melt into each other in the hot oil, in contrast to that crisp, crackling, salty eggroll shell, you'll know I'm on to something.  A touch of freshness comes from the lemon and parsley.  The inside is steaming and hot and oozing and bright, and satisfying in a way that only a grilled cheese meeting guacamole can be.  My mom was so right.  Things that go together this well should never, ever be apart.
Excerpted from my weekly column Franglais on The Huffington Post.
As featured in FrenchEntrée's 100 French recipes to celebrate 100 issues of FrenchEntrée magazine
Brie and Avocado Eggrolls
makes 8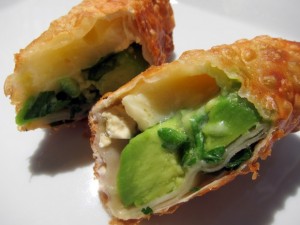 INGREDIENTS
Canola oil, for frying
1 Hass avocado, sliced
7 ounces of brie, sliced
⅓ cup flat leaf parsley, chopped
8 eggroll wrappers
Lemon
Salt
PROCEDURE
Fill a cast iron skillet with 1 inch of oil, and heat it to 360°F.
While the oil comes up to temperature, assemble the eggrolls.  Divide the avocado, brie, and parsley among the 8 eggroll wrappers.  Spritz the contents with fresh lemon juice and season with salt.  Dip your finger in water, and dampen the eggs of the eggroll wrapper.  Roll up the eggrolls, pinching to seal the edges.
Fry the eggrolls for 2 minutes, turning once.  Drain on a paper towel, and season with salt.  Eat hot.
print this recipe