Ras-el-hanout is a traditional Moroccan spice blend, one my great grandfather used to sell in Casablanca long before I was born.  It translates to "head of the shop," and every shop and household and grandmother has its own version which, in true Moroccan fashion, they all swear is the absolute best, most superior, unsurpassed in heaven or on earth.  Its value stems from the use of sweet spices in a savory application, and it is traditionally used to season couscous.  I, however, have been using it nonstop on seafood, adding it to calamari batter and sprinkling it on fish skin before searing.  There's an inherent sweetness and savoriness to seafood as well, and the match, well, unsurpassed in heaven or on earth.
With this simple, but special, rare seared tuna, I coat the tuna in ras-el-hanout, and let it marinate for hours, for the spices really penetrate the outer flesh of the fish.  Then, I give it a quick sear, slice it up, and serve it with spicy harissa instead of wasabi, and lemon wedges instead of soy sauce.  It's like, my French Moroccan interpretation of tuna tataki.
Excerpted from my weekly column French in a Flash on Serious Eats.
Moroccan Spiced Seared Rare Tuna
Serves 4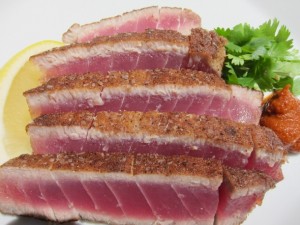 INGREDIENTS


4 4-ounces pieces of fresh tuna


2 teaspoons ras-el-hanout


Kosher salt


2 tablespoons canola oil


Harissa, for serving


Lemon wedges, for serving


PROCEDURE
Coat the outside of all the tuna with the ras-el-hanot.  Wrap in plastic wrap, and refrigerate for 2 hours.
Preheat a skillet over high heat.  Season the fish with salt, and add the canola oil to the pot.  When the oil just begins to smoke, add the tuna to the pan.  Sear 1 minute on the first side, and 1 minute on the second.  Allow to rest 10 minutes, then slice.  Serve with harissa and lemon wedges on the side.
print this recipe