You know in the cartoons, when Bugs Bunny or Daffy Duck has some genius idea, and a light bulb goes off in the corner of the screen?  I may not have a tail or whiskers or feathers or be drawn in marker, but I swear that exact thing happened to me when I thought about mixing melted Camembert and pasta.
The method behind this easier-than-easy mac 'n' cheese comes from fondue.  Sometimes, for a lazy fondue, I buy a small round wheel of brie.  Wheels of brie come in little wooden boxes, and if you wrap those wooden boxes tightly in foil, nestle the brie in, and bake it for an hour, you have a seriously good fondue with no effort.  Just cut away a little hole in the rind, and dip in your bread and apples like a man going ice fishing.
For this recipe, I shove some garlic and herbs down into a wheel of pungent Camembert and let the whole thing melt together in the little foil box.  Then, I scoop out the inside of the cheese and put it in the blender with some starchy cooking water from the fusilli.  The result is a perfectly creamy sauce, that tastes of roasted garlic, thyme, and that pungent Camembert flavor that gets stuck in the twists and turns of the al dente corkscrew pasta.  It is so different, and addictive, and works as a big vegetarian bowl or as a side to a hearty meatloaf or roast chicken.  It's familiar, but that extra kick of the Camembert makes it different and special and really, really good.
It may not be reinventing the wheel.  But it's making damn good use of one.
Excerpted from my weekly column Franglais on The Huffington Post.
Oh-So-Easy Baked Camembert Corkscrews
serves 4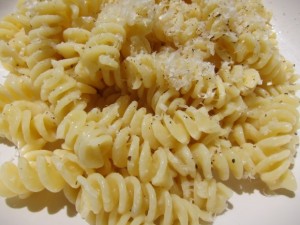 INGREDIENTS


8 ounces Camembert (the round one in the wooden box)


2 cloves garlic, halved


The leaves from 4 stems thyme


Salt and pepper


1 pound fusilli pasta


PROCEDURE
Preheat the oven to 350°F.  Take the camembert out of the box, and cut the very top white rind off only the top of the cheese (leave the sides and bottom intact).  Wrap the box the cheese came in completely and tightly in foil.  Place the cheese cut side up back in its box.  Season with salt and pepper.  Top with the garlic and thyme.  Close the box, place it on a small rimmed baking sheet, and bake for 1 hour.
Boil the pasta until al dente is salted water.  Drain, reserving ½ cup cooking liquid.  Add ¼ cup pasta cooking water to the blender, and scoop the melted cheese, leaving the white rind behind, into the blender as well.  Purée until smooth, and return to the pasta pot.
Add the pasta back in, and toss to coat.  Use the remaining pasta water to thin out the sauce if necessary.  Serve right away.
print this recipe