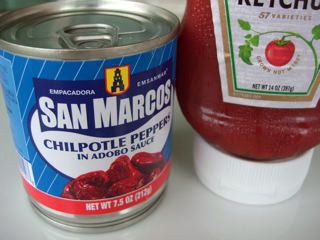 Maybe I say this every month.  It's very possible.  But Chipotle has been my absolute favorite Secret Ingredient to date.  Which may be why I'm doing five recipes instead of the usual three.
Chipotles are smoked jalapenos.  But, they are somewhat different than the usual jalapeno you'd buy at the store.  Green jalapenos are picked when the pepper is slightly unripe.  Like bell peppers, the longer a jalapeno stays on the vine, the more its color deepens from green to red.  So jalapenos meant for chipotles are left on the vine until they become deep red in color, then dry a bit, and are finally harvested.  Once they are harvested, they are smoked over a period of days until they are quite dry, like a prune.  Then, they go on to many different forms, the one I prefer being canned chipotle in adobo, where the peppers are packed and rehydrated in a vinegar-based sauce with onions and flavorings, that becomes a secret ingredient all on its own.
Chipotles can be used in all sorts of complicated dishes, slow cooking with pork, or co-chairing a fantastic guacamole with avocados.  But one simple preparation that I often see on haute-casual brunch menus is chipotle ketchup, served simply with fries.  The smoky, earthy spiciness of the chipotles add a great kick to the ketchup, but the adobo, with its similar spices and vinegar content to ketchup just kicks the whole thing up, while still staying in the vein of the original ketchup.  The result is something seamless that simply works.
Excerpted from my weekly column The Secret Ingredient on Serious Eats.
Chipotle Ketchup
makes 1 1/3 cups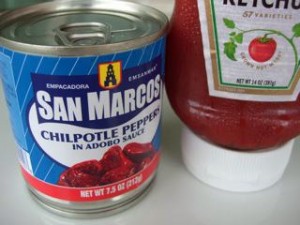 INGREDIENTS


1 14-ounce bottle of ketchup


2 chipotles in adobo


1 tablespoons adobo


PROCEDURE
Put all the ingredients in the blend, and whiz until smooth.  Serve with fries.
print this recipe