I am obsessed with tuna burgers.  They have that whole burger thing going on, with the bun, and the toppings, and the casualness of it all.  I love that familiarity and simplicity.  But I feel so much better after I eat tuna burgers than when I devour a bacon cheeseburger.  And while tuna burgers may seem to be the exclusive domain of restaurants, they are actually even easier to make at home, by far, than the regular beef version.
This tuna burger is home-ground, and flavored with a sprinkle of soy sauce.  I sear it, and serve it on a brioche roll with wasabi mayo, butter lettuce, and pickled ginger.  It's like a tuna roll on a bun.  I leave the inside nice and rare, but the great thing about tuna burgers is that you can serve them exactly how you like them.  They take five minutes to make, stretch a dollar, and double as both gourmet and comforting.  I promise, these will be entering your regular rotation starting tonight.  (And I'll be eating them with you!)
Rare Japanese Tuna Burgers with Wasabi Mayo and Pickled Ginger
serves 2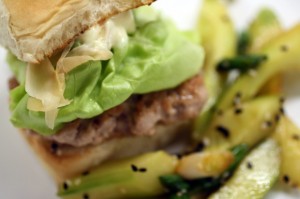 INGREDIENTS


4 slider buns, halved horizontally


¾ pound fresh sushi-grade tuna steak


1½ tablespoons soy sauce


Kosher salt


2 tablespoons mayonnaise


1 teaspoon wasabi


1 tablespoon vegetable or canola oil


Butter or Boston or Bibb lettuce


Pickled ginger


PROCEDURE
Preheat a large nonstick skillet on high heat, and place the buns, cut-side-down in the pan to lightly toast.  Remove them when they are golden brown.
While the buns are toasting, cut the tuna into chunks.  Put the chunks in a food processor with the soy sauce and a pinch of salt and pulse until the tuna has the same texture as ground beef.  Take the tuna out of the food processor, and form into 4 patties.
Make the wasabi mayonnaise by whisking together the wasabi and the mayonnaise.
Make the burgers.  With the pan on high heat, add 1 tablespoon vegetable oil to the pan and immediately put the tuna burgers in.  I cook them 30 to 60 seconds on each side, because I like them super rare.  Use a slotted spatula to flip them over.  Take the pan off the heat when you are done cooking the burgers.
Spread some wasabi mayo on each bun.  Top the burger with some lettuce (I forgot it in the video, but you should use it!) and pickled ginger.  Serve with cucumber salad on the side (I toss chunks of cucumbers with soy sauce and sesame seeds).  You're done!
print this recipe