I eat bruschetta at least once a week.  In fact, I'm getting ready to make it for lunch today.  I like it simple, tomatoes tossed with olive oil and salt, maybe some torn fresh basil, piled onto toasted good bread that I sometimes rub with garlic.  It's light, and healthy, and easy, and perfect.  When I've over done it, which is often (I had two dinners last night: a brie sandwich at 6 AND fish and chips at 10), this is what I revert back to.
For dinner, if I want something similar, but more elegant, or more hearty, I actually turn a piece of Chilean sea bass into bruschetta.  The fish is thick, but buttery and flaky, and I sear it in olive oil, super simply, just until it's crispy on the edges, and just cooked through.  Then, and this is the secret, I rub it with a cut clove of garlic.  Like with garlic bread, but it's garlic fish.  So good.  Then, I pile it high with a salad of tomatoes, and olive oil, and basil, so all the tomato juices run down into the ravines in the fish, and the salad is so fresh and light you can't help feeling like some virtuous kitchen saint, when really you're eating something so good, you don't care about actually being good.  You're going to love it, plus, it dresses up nice for company.  Bon app!
Bruschetta Sea Bass
serves 2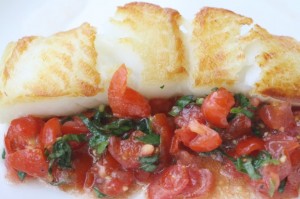 INGREDIENTS


2 5 to 6-ounce boneless, skinless Chilean sea bass fillets


Salt


1 tablespoon olive oil, plus 2 tablespoons


½ pint grape tomatoes


12 large basil leaves


1 clove garlic


PROCEDURE
Season the fish with salt.  Heat 1 tablespoon olive oil in a wide skillet over medium heat.  Place the fish presentation-side-down in the hot oil, sear until golden brown, about 4½ minutes.  Flip the fish, and sear another 2 to 2½ minutes.
Meanwhile, chop the tomatoes in a mini food processor to a chunky chop (you can do this by hand too).  Stir with basil and remaining olive oil,  and salt.
When the fish is done, cut the garlic clove in half, and rub the cut end all over the hot fish.  Divide the tomato salad over the top, or on the side, of the fish, and serve right away.  Bon app!
print this recipe