My friend Jessie's mom inspired this salad.  She's forever coming up with gorgeous combinations of seeds and proteins and fruits and nuts to put in her salads.  She even adds wasabi peas–totally genius in a salad.  This one is particularly festive, as I toss baby spinach, arugula, and radicchio with dried cranberries, walnuts, and crumbed goat cheese.  A quick maple-Dijon dressing adds sweetness, spice, everything nice.
Bitter Greens Salad with Dried Cranberries, Goat Cheese, and Spicy Maple Vinaigrette
serves a crowd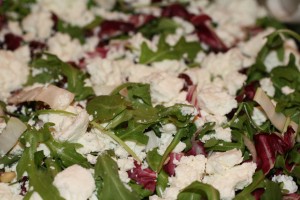 How to Make My Bitter Greens Salad with Cranberries and Goat Cheese
Mix one part white wine vinegar with two parts olive oil.  Add Dijon mustard, maple syrup, salt, and pepper to taste, and whisk together.  In a large bowl, toss together baby spinach, baby arugula, chopped radicchio, walnuts, dried cranberries, and crumbled fresh goat cheese.  Lightly dress the salad, and serve right away.  Corn bread croutons wouldn't be a bad idea!
print this recipe