Some people celebrate birthdays and weddings and anniversaries and graduations.
I celebrate celeriac season.
I'm not kidding.  Seeing those straight-from-outer-space bulbs in the produce section sends me in a fit of rapture, and I usually clap my hands together, gasp, and do a little jump before I realize that I have to keep it together in public.  Celeriac, which has a texture between a potato and jicama and a flavor akin to celery but much gentler and more delicate, is best served raw in a slaw.
If you love Cole Slaw, but are ready for an upgrade, try this slightly American take on the classic French celeriac rémoulade.  I grate celeriac and Granny Smith apples, and toss them in a sauce of good French mayonnaise, apple cider vinegar, Dijon mustard, and lemon juice.  Tons of parsley and cracked black pepper finish it off.  The result is something different and fresh and crisp, slightly sweet, very savory.  It's perfect as a slaw, as a topping on greens, even served on an improvised Reuben sandwich.
Next time I see one of these babies in the produce aisle, I may not hide my hysterics.  We should all celebrate celeriac.  And adding a new vegetable to your repertoire is always a good thing.  It's like buying a new book.  Whether you read it once or a hundred times, it's always nice to see it on the shelf and know you can pick it up whenever you want to.
Excerpted from my weekly column Franglais on The Huffington Post.
Apple and Celeriac Slaw
serves 6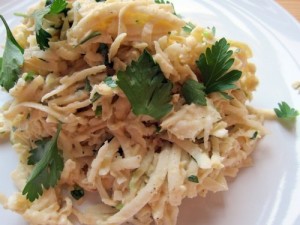 INGREDIENTS


10 tablespoons mayonnaise


3 tablespoons apple cider vinegar


1 tablespoon Dijon mustard


1 tablespoon lemon juice


¼ cup chopped flat leaf parsley


Salt


Freshly cracked black pepper


2 pounds celeriac, peeled


2 Granny Smith apples


1 tablespoon reserved apple juice


PROCEDURE
In a large bowl, whisk together the mayonnaise, vinegar, mustard, lemon juice, parsley, salt, and pepper.
Shred the celery root in a food processor, and add it to the large bowl with the rémoulade sauce.  Next, cut the cheeks off the apples, and shred them in the food processor.  Squeeze the excess juice out of the apple before adding it to the celery root, and reserve the juice.  Add 1 tablespoon of the reserved apple juice to the mixture, and toss everything together.  This tastes best if it sits covered in the fridge overnight, but you can serve it right away.
print this recipe