These are inspired by my favorite sandwich at Yura on Madison.  Chewy skinny tiny baguettes (or you can cut up big ones) layered with thinly sliced smoked turkey breast, Munster cheese, romaine lettuce, vine tomatoes, and lemony mayo.  Tie them with twine, and serve them with Terra sweet potato chips.  Simple, but gorgeous and hip.
Smoked Turkey, Munster, and Lemon Sandwiches
serves a crowd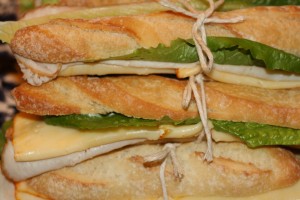 How to Make My Smoked Turkey, Munster, and Lemon Sandwiches
Buy as many fusettes or baguettes or ficelles as you want for the amount of people you're having.  Slit them open horizontally.  Mix together mayonnaise and lemon juice and lemon zest to taste.  Season the mayo with salt and pepper.  Lightly mayo both sides of bread.  Layer on sliced smoked turkey from the deli counter, sliced Munster cheese, halved leaves of romaine lettuce, and just a couple thin slices of vine-ripe tomato.  Use as much or as little of any ingredient as you like.  Serve with sweet potato chips for a Thanksgiving redux.
print this recipe