Aside from my champagne toast, I don't like to have straight wine with my Thanksgiving dinner.  I like just a touch of sweetness to cut through all the savory turkey.  And stuffing.  And potatoes.  And sprouts.  And beans.  Something bright and bubbly to break through the parade.  I always serve cidre buché, or corked cider.  It's a term that applies to dry apple cider from Normandy or Brittany, cheap even though it comes in bottles that are strangely reminiscent of champagne.  Dry, but still apply.  This cocktail is even more fun.  I soak slices of green apples and grapes in white wine and Calvados, a Norman apple brandy.  Simple syrup and seltzer add sparkle and sweetness.  Something to toast with, and to.
Autumn Apple Sangria
serves as many as you want.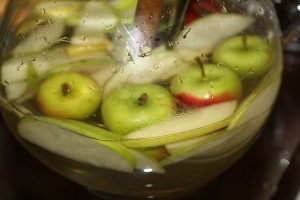 How to Make My White Apple Sangria
Boil 1 cup of sugar with 1 cup of water for 3 minutes.  Set aside to cool.  In a large pitcher, pour a cold bottle of white wine and Calvados to taste.  Add in slices of Granny Smith apples and halved green grapes until it's quite full of fruit.  Allow to sit in the fridge, covered, for a few hours.  Add a bottle of seltzer and the cooled simple syrup to taste.  Stir, and serve cold.
print this recipe