Here is this week's The Secret Ingredient, the last installment on turmeric.  I am a die-hard aloo gobi fan.  But this is my version, newly minted and a little different.  No potatoes, just lots of cauliflower with fresh ginger, garlic, chili, and cilantro, with some turmeric and cumin to spice it all up.  I toss it with a spoonful of butter at the end.  Unorthodox, but pale gold and lovely.
I am an enthusiastic frequenter of Indian restaurants, and I never leave without having Aloo Gobi, potatoes and cauliflower, cooking with coriander, cumin seeds, a bit of chili, and of course, turmeric, which gives it that golden kiss and earthen flavor.  It is an incredibly simple recipes as far as Indian dishes go, which I admittedly find unfamiliar and daunting in the kitchen.  I personally have more time for cauliflower than potatoes, so I made this my Gobi Gobi (which means cauliflower) recipe, all soft florets, earthy turmeric, a whole chili, smoky cumin seeds, hot fresh garlic and ginger, and piles of fresh cilantro.  It's bright and light, but different and interesting and unexpected, especially if served in a non-Indian context, like along side seared fish or roast chicken.
Excerpted from my weekly column The Secret Ingredient on Serious Eats.
Gobi Gobi
serves 2 to 4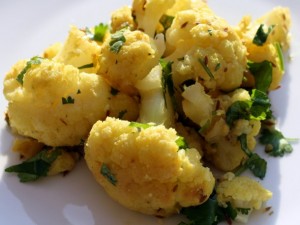 INGREDIENTS


2 tablespoons vegetable oil


1/4 teaspoon turmeric


1/2 teaspoon whole cumin seeds


1 tablespoon grated fresh ginger


1 tablespoon grated fresh garlic


1 green chili, split down the middle, seeds and ribs removed


2 small heads of cauliflower, split into florets


Kosher salt


1 tablespoon unsalted butter, room temperature


1/4 cup chopped fresh cilantro


PROCEDURE
Heat the oil in a wide sauté pan over medium heat.  When the oil shimmers, add the turmeric, cumin seeds, ginger, garlic, and chili.  Sauté just until fragrant—about 30 seconds.  Add the cauliflower and season with salt.  Add 2/3 cup of water, and cover.  Simmer, covered, for 10 to 12 minutes, until the cauliflower is tender.
Take the lid of the pot, and allow any remaining water to evaporate over high heat, and then allow the cauliflower to take on an ever-so-slight golden age by searing in the dry pan for just 5 to 7 more minutes.  Toss with the butter and cilantro, and serve.
print this recipe