Tonight was a strange Thanksgiving Eve.  Instead of doing my giant shop, vacillating between Brussels sprouts and green beans and then deciding to get both because, come on, it's Thanksgiving—I was at the London Whole Foods, buying boxes of already-cooked sage and onion stuffing, Brussels sprouts with chestnuts, haricots verts with shallots, butter mashed potatoes, gravy, cranberry sauce, two pumpkin pies, and of course, roast turkey.  In living memory, I have never not cooked Thanksgiving.
I have my traditions.  I always make cream of cauliflower soup, and pomegranate mushrooms.  We always open a bottle of expensive champagne, and go around toasting all the things we each are thankful for.  I put on my apron, and pad around the kitchen barefoot, listening to Ella Fitzgerald.  I sit down one night in the days before, and eat an entire pumpkin pie by myself instead of dinner.  Thanksgiving, always days after my birthday, is my favorite holiday.  Frankly, it's the only one we ever celebrated growing up.  When I was very young, I hated turkey, and I begged Maman to make me hotdogs when she had the whole family around our expanding antique table that we would stretch out in the big foyer of our little New York apartment.  I would eat them on the floor in the next room, in front of the fire with our little King Charles Spaniel Michou, nestled somewhere between his fur and the carpet.  But I loved the holiday so much, that year by year I forced myself to eat the turkey, until lo and behold, I love it.  Mind over matter, I always say.
So it feels weird that I'm not going to be with my family tomorrow.  Or my friends, who all descent upon Florida as the cold creeps up the back of the North.  Mr. English and I are going to come home to our ready-cooked feast after work, and eat at our little pine Ikea table, a far cry from Maman's antique inlayed with leaf after leaf for guest after friend after relative after guest.  There won't be pomegranate mushrooms, or cauliflower soup.  But for me, it's still like the night before Christmas must be for everyone else.  As I put my little boxes away of stuffing and sprouts, stacked neatly in my under the counter fridge, I shivered in the anticipation of getting to open them.  And tonight, as we sat watching TV, Mr. English and I shared not one, but two anticipatory slivers of pumpkin pie.  Because like any great holiday, the Eve is as worth it's salt as the day itself.
Last Thanksgiving, I hosted a "night-after" party.  I invited all my friends and their boyfriends (and Mémé, always the life of the party) over for Thanksgiving redux.  I made turkey meatballs, stewed with bell peppers in arrabiata sauce, served in mini French baguettes.  A salad of greens and cranberries and goat cheese.  Maple-coated popcorn.  Sandwiches of smoked turkey, Munster cheese, lettuce, and lemon mayo inspired by Yura on Madison in New York.  Sweet potato chips.  Cranberry Jell-O shots.  Apple and Grape White Sangria with Calvados.  And finally, Gwyneth Paltrow's pumpkin ice cream pie.  It made real Thanksgiving look out of season.  Engagements were announced.  Bottles of alcohol ran dry.  The meatballs were the hit of the season.  We sat around the couches in Maman's living room, Chinet plates scattered around an enormous marble coffee table, laughing.  Eating.  Smiling.
I was thankful for them.  That is my toast every year.  Thankful for my friends and my family.  When I count my blessings, I know which ones to count first.
Which is why I just put my bottle of Champagne in the fridge.  It may sound hokey, but as I walk out tomorrow in a strange country, full of people who don't realize it's the best day of the year, far from everyone but one in my life, I will be thankful that I have so many to think of, and thankful to think they are thinking of me.
As they say in jolly old England,
Cheers.
Last year, I took some candid photos and casual recipe notes to share with you a year later.  More recipes to come throughout the day…
Spicy Thanksgiving Turkey Meatballs
serves a little crowd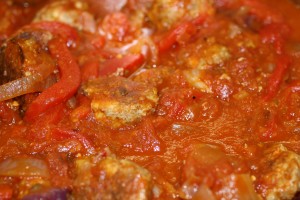 How to Make My Spicy Turkey Meatballs
Follow your favorite meatball recipe.  This is mine.  Substitute ground turkey (not the super lean kind, just regular ground turkey) for the meat, and forget about the spaghetti and mozzarella and any extras like that.  Form the meatballs into small, Swedish-meatball-sized balls.  Drizzle the meatballs with olive oil, and bake at 425 degrees just until golden brown on the outside (they don't need to be all the way cooked through, or they'll dry out).
In a large stock pot, heat 2 tablespoons of olive oil on medium heat.  Roughly slice 2 yellow onions into half moons, and sauté them until they're soft.  Drain a large jar of roasted red bell peppers, and sliced them.  Add the peppers and 1 large jar of Arrabiata sauce (recommended: Mario Batali; if you like it really sauce, add 1 1/2 jars) to the pot.  Add the meatballs to the pot, and simmer, lid on, for 15 to 20 minutes.  Serve with toasted split baguette rolls.  Spicy, hearty, fluffy, and delicious!
print this recipe