Mr. English led me on a walk through my still-new neighborhood yesterday, and lo and behold, I looked up to see…Poilâne.  If you don't know Poilâne, it's the superman of French bakeries, located on the rue de Cherche-Midi.  The selection is sparse: huge pains au levain, with the characteristic "P" swirled into the top of the crust, the irresistible chaussons aux pommes (which means apple turnovers, even though the phrase actually translates quaintly to apple slippers), and the little crisp butter cookies.  And, of course, the giant chandelier, made of bread.  Of course.
Well, look out London!  Poilâne is here.  There's no bread chandelier, but there were gorgeous bread birds sitting in bread nests.  Charming…very English quaint.  I walked into the rustic little wooden shop, much like its Parisian sister, and asked for a quarter loaf of bread.  Mr. English isn't going to be home for dinners this week, and I wanted to treat myself without expending any effort.  Because frankly, after the kind of days I've been working, the only chance I have of staying awake for dinner is if the dinner is basically already on the plate when I get home.  And when the cat's away, the mice do play.  For some people, that might mean some naughty flirting.  For me, it means eating goat cheese.  Mr. English hates it, so tonight, I made myself one of my favorite salads, crottin de chèvre, inspired by the famous café de la mairie in Place St. Sulpice in Paris (made famous by the fantastic modernist novel Nightwood–check it out!).  Mixed greens, with a light mustard dressing, topped with a tartine of toasted Poilâne bread with slices of melted, bubbling, oozing crottin de chèvre burstin on top of them.  Effortless, and so worth any effort that effortless might have left out.  Here's to eating single.  Bon app!
I have a bunch more bread and a chausson aux pommes to get me through the week.  I'm definitely thinking about a croque monsieur tartine…and I think I've got breakfast taken care of.  I'll keep you posted!
Crottin de Chèvre Salad
serves 1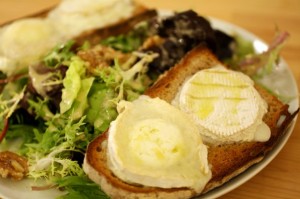 INGREDIENTS


1/2 teaspoon good French mayonnaise


1 teaspoon Dijon mustard


1 teaspoon white wine vinegar


Pinch of salt and pepper


3 teaspoons walnut oil


2 slices of Poilâne bread, or good country bread


A drizzle of olive oil


Good sea salt


A few huge handful of mixed greens


A handful of walnuts


(and may I recommend a pear for dessert?)
PROCEDURE
Preheat the broiler.  In a small bowl, whisk together the mayonnaise, mustard, vinegar, salt, pepper, and olive oil until emulsified.  Set aside.
Lightly toast the bread in the toaster.  Slice the crottin de chèvre into 4 slices.  Place 2 slices in a single layer on each piece of bread.  Drizzle very lightly with olive oil and sprinkle with sea salt.  Put the bread and cheese on a baking tray, and place the bread in the middle of the oven.  Broil from afar until the cheese is melting and bubbling.  Leave to cool for 3 or 4 minutes.
Toss the greens and walnuts lightly with the vinaigrette.  Top with the cheesy toasts.  Eat!!!!!
print this recipe