It is my New Year's tradition to make something with truffles.  They're so luxurious—and I'm so superstitious.  I figure they will bring a successful year, the way birthday cake brings a sweet one.  This year, I want to make something sophisticated for a New Year's party.  Something that would go with Champagne.  Something up to the occasion.
This is my mushroom pâté with truffles.  So easy, vegetarian, versatile, scrumptious.  The key is to roast the mushrooms with freshly ground dried mushrooms, whole cloves of garlic, and thyme, so the mushrooms sear and caramelize, the garlic gets softly charred, and the dried mushrooms add that extra shroomy oomph to the whole thing.  I whiz it up with Neufchatel cheese, which is quite low fat, so you can feel good about this in a New Year's kind of way, and some parsley, and lemon juice.  I finish it with a drizzle of black truffle oil, and some rounds of baguette for smearing.
It's not a vrai pâté.  But as something light, and fresh, and of course, vegetarian, this trumps it all.  Happy New Year!
Excerpted from my weekly column French in a Flash on Serious Eats.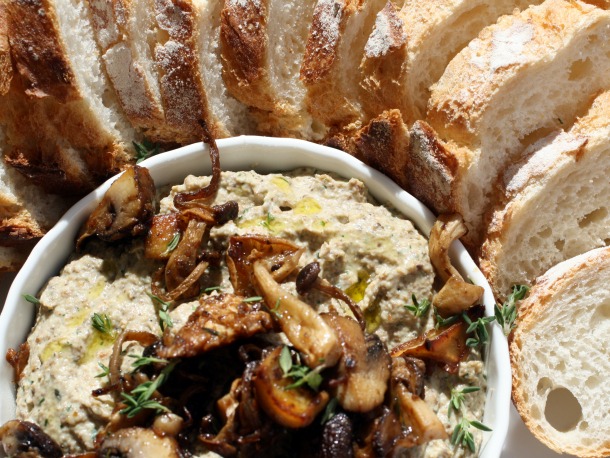 Awesome Mushroom Pâté
serves 4 to 6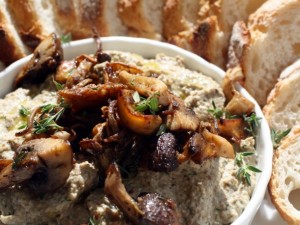 INGREDIENTS


1 1/2 tablespoons ground dried mushrooms


13 ounces mixed mushrooms


3 tablespoons olive oil


4 cloves garlic, left whole and in their paper jackets


Around 8 whole stems of thyme


Kosher salt


Freshly cracked black pepper


3 ounces Neufchatel cheese


1 tablespoon of flat leaf parsley, packed


2 teaspoons lemon juice


Truffle oil, for drizzling


1 baguette, thinly sliced, for serving


PROCEDURE
Preheat the broiler.  Grind your dried mushrooms to a powder in a mini food processor (it should take a big handful of dried mushrooms).  Put a wide ovensafe braising pot on the stove over medium-high heat.  Cut the caps of mushrooms into beautiful quarters, and roughly chop the stems (unless you're using shitakes and the stems aren't edible).  Add the olive oil to the hot pot, followed immediately by the mushrooms, dried mushrooms, garlic, thyme, and salt and pepper.  Toss everything together with tongs, so the mushrooms are well coated with olive oil.  Put the mushrooms about 5 to 6 inches from the broiler and cook for 15 minutes, tossing once.  Scrape everything out of the mushroom pan into a bowl to cool.
When the mushrooms are room temperature, set aside 1/4 cup for garnish.  Put the rest of the mushrooms in the food processor with the Neufchatel, parsley, and lemon juice.  Whiz until smooth.  Taste, and adjust the seasoning.  Decant to a pretty bowl, then drizzle with truffle oil, top with the reserved mushrooms, and serve with thinly sliced baguette.
print this recipe