A few summers ago, I spent a day in the Camargue, a part of France that had, for some reason, completely eluded my knowledge of the country.  Cowboys.  French cowboys, that ride around on snowy white horseback, in a flat grasslands, herding.  I had always thought that we Americans had the monopoly on cowboys, but as it turns out, that is not the case.  Beautiful crystalline salts are dried out in the sun.  And restaurants serve stews made of the bulls herded down the grasslands.
That is where Camargue Red Rice comes from.  I am a rice fanatic: a simple food that I am content to eat simply, with just a pinch of that Camargue salt.  I recently discovered Camarge Red Rice at the supermarket: it looks like grains of long-grain black rice merged with brown basmati rice, and turned a deep russet red.  It has a chewy texture, and a delicious mild but present flavor.  I cook it as the French do, like pasta, in a huge pot of salted boiling water until it is al dente, and then I drain it in a colander.
Finally, for this salad, I toss it with everything green: a lemony green parsley and olive oil sauce, little jewels of zucchini and haricots verts, slivers of green olives and walnuts, shards of scallions and fresh raw spinach.  It is so full of flavor and health and texture that you can't help but love it.  Serve it room temperature next to some roast chicken or charred whole fish, and you're in business.
You can find Camargue Red Rice online, but if you can't use it for whatever reason, try a wild rice blend, or some forbidden black rice with this recipe.
Excerpted from my weekly column French in a Flash on Serious Eats.
Camargue Red Rice Salad
serves 4 to 6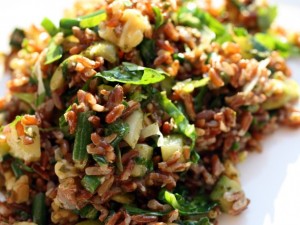 INGREDIENTS


2 cups Camargue Red Rice


Kosher salt


1 medium zucchini, small dice


1 cup chopped haricots verts


1 1/2 cups flat leaf parsley


1/2 cup olive oil


2 tablespoons lemon juice


Freshly cracked black pepper


2 scallions, finely sliced


40 French green olives, such as lucques or picholine, pitted and chopped


2 cups spinach, chiffonade


1 cup chopped walnuts


PROCEDURE
Boil the rice just as you would pasta, in a large pot of boiling salted water, for 30 minutes, or until it is tender, but still has a firm texture.  Add the zucchini and  haricots verts, and cook an additional 5 minutes.  Drain the rice and vegetables together.
While the rice and vegetables are draining, roughly chop the parsley, and add it to the food processor with the olive oil and salt.  Run the machine for 5 minutes, until you have a very green parsley oil.  Add the lemon juice and some pepper, and then add all the sauce to the rice, along with the scallions, and toss well.
Leave the rice salad to cool completely to room temperature.  Just before serving, toss in the olives, spinach, and walnuts.  Serve at room temperature alongside poultry or fish, or as one of many vegetarian salads.
print this recipe