When I was in Paris for my birthday a few weeks ago, I heard about the Bistrot d'Henri, a local-type bistro good enough to draw crowds from all over Paris, and well beyond, with homestyle French food at reasonable prices.  It sounded too good to be true.  Mr. English and I walked over from our hotel, and when we saw the place was half empty, my heart started beating wildly against my ribs.  Could I really get a table at a place like this, unannounced, on a Saturday night?  All over the tables were little crocks of braised stews, crispy round whole potatoes, bottles of wine.  It was dark and small and cozy.  I wanted it so badly.
"No!" the owner told us–all the empty tables were reserved.  "But!" he chimed, calling his friend at another bistro down the street.  He walked us over to his friend's bistro, dropped us at the last empty table in Paris that night (or so it seemed) and said his "adieus".  It was a small menu, so we both ordered the lamb with prunes.
I'm not always the biggest fan of fruit in my meat, even if I am half Moroccan.  But this was not a heavily spiced dish, oh no.  It was simple, seared lamb shanks, stewed in a delicate wine and broth mixture with sweet onions and garlic, and of course, prunes.  The meat, as a must, was falling off the bone.  The prunes added a delicate sweetness, just enough to enhance the sweetness of the onions and garlic, and lend a counterbalancing flavor to the lamb and its broth.  The onion is so sweet and soft it dissolves in your mouth, and the garlic so mellow that it pops out of its paper like gooey savory paste.  It was gorgeous, poured over a brick of potatoes Daupinoise, and followed by a chocolate mousse.  Paris!  Will I ever stop being amazed?  I sincerely hope not.
Here is my version, which I serve with a light herb-and-orange laced couscous, far less labor-intensive than Dauphinoise.  This dish is so simple and so easy, yet so complex and interesting.
Excerpted from my weekly column French in a Flash on Serious Eats.
Fall-Apart Lamb with Prunes
serves 4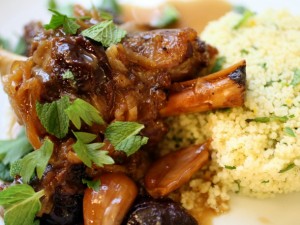 INGREDIENTS


4 lamb shanks


Kosher salt


Freshly cracked black pepper


2 tablespoons olive oil


2 yellow onions, thinly sliced


1 cup dry white wine, such as Sauvignon Blanc


2 cups low-sodium organic chicken broth


12 large cloves of garlic, unpeeled


20 pitted prunes


Fresh mint and parsley to serve


PROCEDURE
Season the lamb liberally with salt and pepper.  Heat the olive oil in a high-sided sauté pan until it shimmers.  Brown the meat on all sides.
Set the meat aside, and lower the heat to low.  Carefully add the sliced onions, and sauté on very low heat for 20 minutes, until soft and lightly caramelized.  Season the onions with salt and pepper.  Raise the heat to high.  Deglaze the pan with the white wine, and cook off for 2 minutes.  Add the stock, garlic, prunes, and lamb to the pan.  Bring the broth to a boil, then lower the heat to low, and cook, covered, on the lowest heat for 2 hours.  Serve piping hot, with torn fresh leaves of parsley and mint over the top, with Dauphinoise or couscous on the side.
print this recipe