This recipe is the brain child resulting from the marriage of a meal I had at Da Silvano (a seriously yummy meal I had about three years ago that I'm STILL salivating over) and the sheer volume of pistachio items that I consumed this summer in the south of France.  (I can't get into it now for risk of publicly offending peanut, cashew, and walnut, but a LOT of pistachios were consumed).  Pistachios all over the world are trembling in fear at the thought of it.  It's super simple: spaghetti, tossed with pistachio butter fresh from the Whole Foods grinder, some olive oil and butter, Parmesan, and maybe some garlic.  It makes the perfect, gorgeous green side dish.  The green for the holidays is naturally festive, and I love, as I write in this week's column, serving pasta as a side.  So often I just sit down to a big bowl of spaghetti, that I've forgotten how well it works as a creative side.  I served this with roasted pork loin with honey, and it was so much more expressive than plain ol' roast potatoes or rice.  Bon app!
---
Excerpted from my weekly column French in a Flash on Serious Eats.
Try saying pistachio pistou three times fast.  This recipe is actually a little bit sly.  You see, what separates a French pistou from an Italian pesto is that a pesto has nuts, usually pine nuts, while a pistou has only basil, garlic, olive oil, and sometimes a good hunk of Parmesan.  But in this pistou, the nuts don't act as the binder, as they would in a pesto.  Instead, they replace the basil altogether as the prime flavor and ingredient.  The result is a sauce that creamy, rich, nutty, and vibrantly green.  Hence, a pistachio pistou.
I love this recipe for how unusual it is, and how decadent.  And, now that I think about it, how uncommonly easy it is as well.  It is a simple no-cook sauce made by whisking together garlic, olive oil, butter, pasta water, and the secret ingredient, pistachio butter, which has a phenomenal mixture of textures, from creamy and buttery to finely granular, so you get a pistachio cling to each strand of spaghetti, but also little crunchy shards of nut throughout.  The result is a pasta dish that is green, and rich, and perfect for the holidays.  The garlic makes it a pistou, but it is a strong flavor, and can be omitted for just a rich, buttery nut sauce.  I like it equally both ways.  I served it with roast pork loin, and I just think it makes the most beautiful holiday lunch.
I love the idea of serving pasta as the side dish, instead of mashed potatoes, or rice, or some other starch.  A really special nest of pasta next to some roast meat or charred fish can have a much more interesting profile than the same old olive oil roast potatoes–and I think in our love of big pasta plates we forget how well it works not as the center of attention.  This dish works perfectly as that kind of side.  Try it either way!
Spaghetti with Pistachio Pistou
serves 4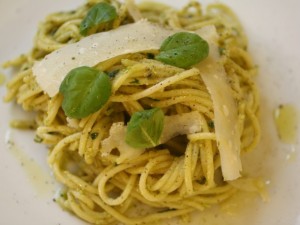 INGREDIENTS


1 pound spaghetti


Salt


1/2 cup pistachio butter


Freshly cracked black pepper


1 clove garlic, grated (optional)


2 tablespoons finely sliced basil, plus extra for garnish


2 tablespoons olive oil


2 tablespoons room temperature unsalted butter


Good Parmesan cheese for serving


PROCEDURE
Cook the pasta in a large pot of boiling salted water.
In a medium bowl, whisk together the pistachio butter, garlic (if using), salt, pepper, basil, olive oil, and butter, until smooth and completely incorporated.
When the pasta is al dente, reserve 2 cups of the cooking liquid, and drain the pasta.  Add 1 cup of the reserved pasta water and the pistachio mixture to the empty pasta pot, on low heat.  Whisk the pasta cooking water into the pistachio mixture, and when smooth, toss the pasta gently with the sauce with a pair of tongs.  Add additional pasta water if the sauce is too tight.  Pour the pasta into a large serving bowl, and use a vegetable peeler to scrape strips of Parmesan cheese over the top.  Garnish with some whole basil leaves, and serve right away, especially next to roast pork.
print this recipe