If you like effortless cooking, and you like seafood, you NEED the recipe to this sauce.
Growing up in Florida, you get very accustomed to having your seafood with mustard.  When we go for stone crabs, which after lobster is just about the best thing that ever happened to the human mouth, you dive the claws down into this creamy mustard sauce, sometimes tanged up with key lime juice.  It defines the experience of eating seafood in Florida.
The sauce in this post is the most versatile seafood sauce you could ever hope for.  On a chilled seafood platter, it stays firm for dipping, and is cool and smooth and complex.  Spooned over a hot piece of salmon straight from the grill, or over seared scallops, its melts into delicate rivulets that seep into the cracks in the fish.  All you have to do is cook some seafood, and put this stuff on or near it, and the magic happens.  For this photo, I paired it with a parsley-crusted roasted fillet of salmon, which you can serve, like the sauce, hot or cold.
I mix crème fraîche with Dijon and whole grain mustards, and a good amount of honey–enough so you can taste the sweetness, not just balance out the heat of the mustard.  I find crème fraîche tastes less greasy than mayonnaise, especially when it melts, and it has the slight tang, which really works.  That's the sauce.  The ultimate honey-mustard.  You can add less honey, add key lime juice, add herbs, and citrus zest.  Do anything to flavor it and shake things up, but the basic is the classic, and it's just perfect the way it is.
Excerpted from my weekly column The Secret Ingredient on Serious Eats.
Parsley-Crusted Salmon with the ULTIMATE Honey Mustard
serves 4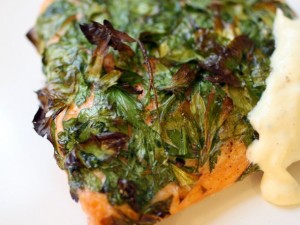 INGREDIENTS


1/2 cup crème fraiche


3 tablespoons Dijon mustard


2 teaspooons honey


1 teaspoon whole grain mustard


1 cup roughly chopped flat-leaf parsley


A drizzle olive oil


4 6-ounce salmon fillets


PROCEDURE
In a bowl, mix together the creme fraich, honey, and mustards. Season with salt and pepper to taste.
Serve the sauce with poached shrimp instead of cocktail sauce, crab claws, poached lobster, fried oysters or clams. Or with hot grilled or seared or roasted fish. For this recipe, with the parsley salmon, preheat the oven to 475 degrees F. Toss the parsley with a drizzle of olive oil. Season the salmon with salt and pepper. Crust the tops of the salmon with parsley, and then place a layer of foil over the salmon, and weight it down with a heavy pot for 10 minutes. Drizzle a rimmed baking sheet with a touch of olive oil, and place the salmon, without the foil, in the oven for about 10 minutes. Pour the mustard sauce over the top and serve hot, or serve room temperature with the sauce on the side.
print this recipe