I was thinking about what to make for my column last night, while watching British food TV.  The chef was doing a tour of the Canal de Midi, much as I have done over the last few summers, touring along Castelnaudary, down to Marseille.  It was just outside Marseille, in a town called Cassis, where I first had anchoïade (pronounced: an-show-ee-ad).  Provence is full of dips and pastes—like fabulous, fresh French ketchups, except so much more than that.  They are all made of the region's signature produce: artichokes, peppers, eggplants, anchovies, olives, tomatoes, basil, and garlic, garlic, and more garlic.
A diamond-standard original is anchoïade, an anchovy spread or dip that I've made before.  But this is a far simpler, more honesty version.  I love serving it as a surprise alternative to tapenade, or as a French foil to bagna cauda.  Anchoïade, like most Provençal pastes, is usually banged together in a pestle and mortar, and made from just four ingredients: the best anchovies you can find, packed in olive oil, olive oil itself, preferably extra virgin, white wine vinegar, and, of course, GARLIC.  If anchovies are too salty, or too fishy for you, just soak the fillets in milk for 15 minutes before using them.  That's also a useful trick for Pissaladière.
Bang together the four ingredients (you can also whiz them up in a food processor) and the anchoïade is done.  I like to serve it with crisp, sweet sugar snaps for a fresh, light crudité aperitif with white wine.  But in Cassis, I had it spooned over roasted sweet bell peppers, and I think it makes a terrific pairing with olive bread or breadsticks.  It's unusual, quirky, and very local and regional to Provence.  Let's just call it "le nouveau dip hipster".
Excerpted from my weekly column French in a Flash on Serious Eats.
Anchoïade
serves 4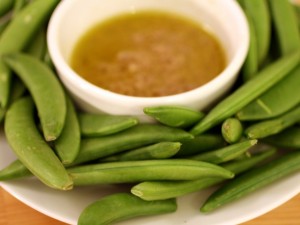 INGREDIENTS


1/2 clove garlic


The anchovy fillets from 1 2-ounce can


2 tablespoons olive oil


1 1/2 teaspoons white wine vinegar, or to taste


PROCEDURE
Fit the food processor with a blade, and set it to whirl.  Drop in the garlic, so it smashes to smithereens.  Drop in all the anchovies at once.  Add the olive oil and vinegar.  Then stop the machine, scrape down the sides, and whiz until pretty smooth.  Spoon into a small bowl, and serve with a few handfuls of fresh sugar snaps, or spoon it over roasted red and yellow peppers, or serve it as a dip for olive bread.  If you want to mellow out your anchovies, soak then in milk for 15 minutes, pat them dry, and then use them in this recipe.
print this recipe