I think of French dishes like boyfriends. I remember asking "grown-ups" how they knew they'd met the loves of their lives. They'd always say something cheesy like, "You just know." I'd roll my eyes. That's ridiculous.
And then, last summer, I met cassoulet. Brawny, rich but humble, supportive, with an excellent lineage and a bright future. It's what the French call a coup de foudre—love at first bite. And I just knew. Cassoulet is my favorite French dish. Bouillabaisse. Bourguignon. Gigot à Sept Heures. All just flings! Every moment that I'm away from cassoulet, I'm thinking about it.
I was lucky enough to spend last summer outside of Toulouse near the famous birthplace of cassoulet: Castelnaudary. Cassoulet, if you haven't yet become acquainted, is a simple, hearty dish from the southwest of France made of duck, goose, or pork confit; garlicky sausage; pork; white beans; and breadcrumbs. It's life-altering, despite its simplicity. Despite the summer heat, or perhaps in amorous defiance of it, I ate cassoulet every other night, forgetting waistline, expense, and all common decency. I ate it out of a can and I ate it at the best restaurants. And now, so far away from it, I can't stop craving, and wishing, and hoping, and dreaming about it.
Here's my quick fix because this is, after all, French in a Flash, and homemade goose confit does not fit under the "in a Flash" heading: white beans flavored with smoky bacon, sausage drippings, herbs, garlic, and wine, crowned with sausage and super-flavorful breadcrumbs. I bake it for 20 minutes, and dive in. Not quite cassoulet, but close enough to the real thing that I can stop crying for one meal.
Excerpted from my weekly column French in a Flash on Serious Eats.
Cassoulet-Style Sausage 'n' Beans
serves 4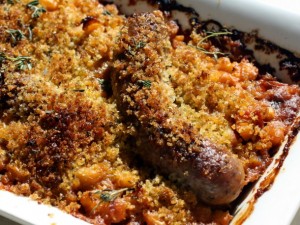 INGREDIENTS


1 tablespoon olive oil, plus 1 tablespoon and more for drizzling


4 garlicky pork sausages, like mild Italian (if you want extra meat, just use 8 sausages!)


4 cloves garlic, chopped, plus 1 clove, whole


1 4-inch piece of baguette, cubed


1 packed tablespoon flat leaf parsley, plus 1 packed tablespoon, roughly chopped


1 teaspoon fresh thyme leaves, plus 1 teaspoon


2 1/4-inch slices of thick-cut bacon, cut into batons


1/2 onion, finely diced


1 14.5-ounce can diced tomatoes, drained (liquid discarded)


1/3 cup dry white wine, such as Sauvignon Blanc


2/3 vegetable broth


2 15-ounce cans cannellini beans, drained and rinsed


PROCEDURE
Preheat the oven to 475 degrees F.  Preheat a sautépan over medium heat.  Add 1 tablespoon olive oil and the sausages.  Brown the sausages thoroughly on both sides.
While the sausages are browning, make the breadcrumbs.  Drop the whole clove of garlic into the food processor, and blitz.  Add the cubed baguette, 1 tablespoon of parsley, and 1 teaspoon of thyme.  Blitz until the cubes are crumbs.  Add 1 tablespoon of olive oil and salt and pepper, and blitz to combine.  Set aside.
When the sausages are almost ready, add the bacon to the pan with the sausages, and sauté until the bacon is golden brown.  Take the sausages out of the pan, and set to one side.
Lower the heat to low, and carefully add the onion.  Season with salt and pepper, and sauté for 2 minutes.  Add the garlic, and sauté another 2 minutes.  Add the drained tomatoes.  Raise the heat to high, and cook until the pan is dry and the tomatoes are just beginning to catch.  Add the wine, and again, cook until the pan is nearly dry.  Add the vegetable broth, 1 tablespoon of roughly chopped parsley and 1 teaspoon of thyme, along with the beans.  Cook for 1 minute, until the broth is bubbling.  Then transfer the bean mixture to a wide, shallow baking dish.  Arrange the sausages on top.  Then top with the breadcrumb mixture.  Drizzle lightly with olive oil, and bake in the center of the oven for 20 minutes, until the sides of the pan are bubbling and golden and the breadcrumbs are gorgeous and toasted.  Serve hot with a green salad.
print this recipe