In the dead of winter, I can feel just that: dead.  I let myself eat macaroni and cheese and carrot cake with wild abandon, and though comfort food may feed the soul, it doesn't do much for the body.  Sunday night, after a weekend filled with steak and ale pies and bourbon, it was time to reboot.
A velouté is normally a thick sauce, or by association, soup.  It means "velvety."  Thick, creamy, soft but substantial.  I find if you simmer sweet shallots, asparagus, and basil in just enough vegetable broth for two, and then whiz it up in a blender, you get that same velvety texture that you'll find in much heavier, creamy, decadent soups, with a lot more vitamins and a lot fewer calories.  I add a couple of spoonfuls of crème fraîche for tang and a little more body, but you could go without if you're deeply virtuous.
I may have missed the start of the year to be good, but there's always the start of the week.
Excerpted from my weekly column French in a Flash on Serious Eats.
Creamy Asparagus, Basil, and Crème Fraîche Velouté
serves 2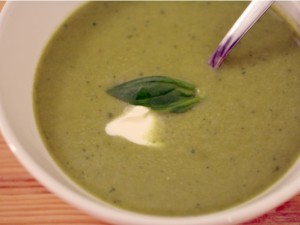 INGREDIENTS


1 shy tablespoon olive oil or butter or a mixture of both


1 extra large shallot, chopped


1 1/2 pounds asparagus, trimmed and diced


2 cups vegetable broth


Salt


Freshly cracked black pepper


5 large basil leaves, plus extra for serving


2 tablespoons crème fraîche, plus extra for serving


PROCEDURE
Heat the butter or olive oil in a medium soup pot over medium-low heat.  Add the shallot and sauté until soft and fragrant, 5 to 6 minutes, stirring often.  Add the asparagus and vegetable broth and season with salt and pepper.  Cover the pot, and bring to a boil.  Reduce to a simmer, and cook until the asparagus is very tender: 10 to 12 minutes.
Transfer the soup to a blender, and add the basil and crème fraîche.  Purée until completely smooth.  Ladle into bowls, and top with a dollop of crème fraîche and a chiffonade of fresh basil.
print this recipe