Maybe it's weird to wax poetic about ketchup.  After all, ketchup is probably the most quotidian American condiment.  But that's exactly it–why I love it.  After living abroad in ketchup-phobic Europe, where everyone is too "sophisticated/European/refined/who knows what" for ketchup, whenever I see it around, I can't help raising my accent to a high volume, and squirting the red stuff all over whatever I'm eating.
Because I, like ketchup, am American.  Ketchup reminds me of Lucille Ball banging the Heinz bottle over her escargots on I Love Lucy.  It's just what we are, and as Americans abroad, it something that I (and Lucy) cling to, familiarity and comfort, a blanketing Uncle Sam in a vast sea of culinary strangeness.
It's not surprising that ketchup seems to even have gone out of vogue in the States.  Everything is artisan these days, and until now, the only ketchup you could get was in the usual glass bottle with a white label.  I do get asked to taste quite a bit of food, so when a friend from business school told me his roommate had started a ketchup company, I was skeptical.  But then I saw the packaging: squat little cubic bottles with fat nozzles (gone are the days of smacking a ketchup bottle's behind or hitting it "right on the 57") and a be-mustached, be-monocled man, a kind of humanoid, vaguely British Mr. Peanut, declaring the contents to be "Sir Kensington's Gourmet Scooping Ketchup".
Don't be fooled, Sir Kensington's is as American as apple pie.  But ol' Sir Kensington gives the stuff a bit of pomp and circumstance.  Which it deserves, because this is the first gourmet ketchup I've ever had that I wanted to have again.  I did what it said on the label: I used it for scooping.  Scott over at Sir Kensington's HQ sent me the classic and spiced flavors, and told me that all gourmet condiments, from jams to mustard to tapenade (those are his words) are scooped, that it implies a "dearness" and quality and desirability in the product.  So I set the jar of spiced ketchup out with corn chips and shrimp cocktail.  The quirky, tongue-in-cheek packaging is both elegant and useful, as you can dip right into the jar.  It made the perfect kitschy-cool alternative to salsa and cocktail sauce.  Ketchup, once the condiment pariah, was suddenly the center of the party.
The texture of Sir Kensington's is thick, and I'd say the basis of it is more savory than the sugary mass produced burger ketchup we're used to.  You can really taste the components: fantastic ripe tomatoes, apple cider vinegar (my favorite), raw brown sugar (for that molasses depth), agave and honey instead of refined sugar, and fresh, fragrant spices like coriander and peppers and lime.  Ketchup evolves from sticky-sweet purée to refined, profound chutney.  It becomes a condiment that isn't an afterthought.  After years of buying ONLY Maille mustard and Delouis Fils mayonnaise, condiments that I love so much I smear them on baguette, I finally feel like I've met my ketchup equivalent.
Sir Kensington's was created by two college friends in a college kitchen, where they treated their friends to eight potential ketchup varieties.  They made the first 200 jars of the two elected flavors, classic and spiced, in that college kitchen, and a company was born.  A company so successful that the ketchup is stocked in Williams-Sonoma, Whole Foods, Sur La Table, and Dean and Deluca, and founders Scott Norton and Mark Ramadan were featured in Forbes's 30 under 30 for their unusually successful ketchup venture.
Scott told me that the goal of Sir Kensington's is  "to deliver a great tasting product that people can feel good about eating."  He said that they didn't set out to necessarily create a healthier alternative to ketchup, but the obvious choice of natural, excellent ingredients naturally led to a product better for both us and our food.  The company hopes to become the "go-to choice for premium ketchup."  If they have any competitors, I have yet to encounter them–and this is one monopoly that may benefit the tastebuds of the ketchup-eating public.  Scott said when he and Matt we in college, reducing pots and pans of ketchup that bubbled and popped on the stove, the stewy mess would sputter out and burn them.  But they loved what they were creating.  They called the burns "Kensington kisses."  Few kisses taste so good!
The good news is that Sir Kensington's Gourmet Scooping Ketchup is not just for scooping.  I set out to cook with this newfangled artisan ketchup by sticking it in and slathering it on something as kitschy-retro-cool as ketchup itself: meatloaf.  This is my Sir Kensington's Light Turkey Meatloaf for Two.  That's right, a romantic, modern meatloaf dinner that's hearty, but soft and light, full of the tang of the bright, burnished ketchup that both flavors and crowns the meat.
I always felt silly buying organic ground dark turkey meat, using whole wheat breadcrumbs, free-range eggs, garden-picked herbs, and then topping it all of with dyed, preservative-ridden ketchup.  Now, I feel like I have the option to invest in all my ingredients, and to use fewer of them, because the higher quality your ingredients are, the more flavorful they are, and the less you have to do to them to make them shine.  This ketchup really shines.  The result is a meatloaf as traditional and American and comforting as classic ketchup–because you can't have one without the other.
I just have one question for you, Scott: When are you bringing Sir Kensington back to jolly old England, so I can get a taste of home?
Be sure to buy Sir Kensington's Classic Gourmet Scooping Ketchup!
And don't forget Sir Kensington's Spiced Gourmet Scooping Ketchup.
And be sure to check out Sir Kensington's website.  It's a super-slick, hilarious site with tons of fun tidbits and Sir Kensington lore.  You don't want to miss it.
Sir Kensington's Easy Turkey Meatloaf for Two
serves 2 to 3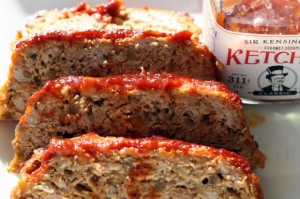 INGREDIENTS


1 tablespoon olive oil, plus extra for drizzling


½ yellow onion, finely diced


1 small clove of garlic, grated


The leaves from 3 stems of thyme


2 tablespoons flat leaf parsley, finely chopped


2 tablespoons Worcestershire sauce


2 tablespoons, plus ¼ cup, Sir Kensington's Classic Gourmet Scooping Ketchup


¼ cup organic vegetable broth


1 egg, beaten


⅓ cup whole wheat breadcrumbs


1 pound free-range ground dark turkey meat


Kosher salt


Freshly cracked black pepper


PROCEDURE
Preheat the oven to 325°F.  Heat 1 tablespoon of olive oil in a small sauté pan over medium-low heat.  Add the onions, and sweat until soft, about 10 minutes.  Add the garlic, thyme, and parsley, and stir for 30 seconds.  Add the Worcestershire sauce, 2 tablespoons of Sir Kensington's classic ketchup, and the vegetable broth.  Stir though and set aside to cool.
In a large bowl, stir together the cooled onion mixture, egg, and breadcrumbs.  Add the turkey, and season with salt and pepper.  Use your hands to gently and minimally toss everything together.  Turn the meat out onto a parchment-lined rimmed baking sheet, and form into a loaf 4" by 7".  Spread ¼ cup of Sir Kensington's classic ketchup all over the top, and drizzle lightly with olive oil.  Bake in the oven for about an hour, or until the internal temperature of the meatloaf reaches 160°F.  Then, leaving the meatloaf in the center of the oven, turn on the broiler, and broil the meatloaf for 10 minutes, until the top gets little brown bits around the corners.  Let the meatloaf rest on the counter for 10 minutes, then slice as thick as you like!  I like to go classic and serve this with lumpy mashed potatoes and steamed haricots  verts, or just with a lightly tossed green salad.
*A tip for serving cold the next day: put cold meat loaf between two slices of ciabatta along with brie and arugula and press in the Panini press for an awesome sandwich.
print this recipe