I love a good grilled cheese, and this is just the grilled cheese to end all grilled cheeses.  Everything stuffed inside the crispy toasted crunchy ciabatta loaf is soft and oozing and melted, from the buttery avocado to the creamy brie to the milky mozzarella.  Just think of all the soft, melting, stringy, oozy potential locked just in those three ingredients.  Then, punctuate the flavor with chewy-salty-sweet olive-oil soaked sun dried tomatoes, a spritz of bright lemon, and a blanket of summery fresh basil leaves.  Could anything be more magnetic and irrefutable than this sandwich?
This sandwich concludes our month-long study of the avocado.  We've blended it in dressing, served it simply and naturally as a whole fruit, chopped it into a chunky salsa with charred rare tuna, and finally warmed it and melted it with cheese in the ultimate panini.  Here are some interesting fact about my favorite avocado, the Hass: did you know that the Hass avocado is a berry that was first grafted in 1926 (what did people do with their corn chips before 1926!?)?  The tree was patented in 1935, and was the first tree to be patented, period.  Avocado has more potassium than a banana, is high in fiber, high in healthy fats, and has been said to combat cholesterol and cancer.  All I have to say is, do you really need an excuse?  Just eat avocado!
Excerpted from my weekly column The Secret Ingredient on Serious Eats.
Gooey Avocado Panini with Brie, Mozzarella, Sundried Tomatoes, and Basil
serves 2 to 4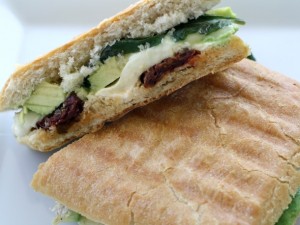 INGREDIENTS


1 12" ciabatta, halved horizontally


4 teaspoons olive oil or sundried tomato olive oil


4 3/4 ounces fresh sliced mozzarella


3 3/4 ounces sliced brie


12 sundried tomatoes


8 big basil leaves


1 Hass avocado, sliced or mashed


Squirt of lemon juice


Salt


Pepper


PROCEDURE
Drizzle the insides of both halves of bread with oil.  Arrange the mozzarella on the bottom half, and the brie on the top half.  Fill the inside with sundried tomato, basil leaves, and avocado.  Season the avocado with a squirt of lemon juice, salt, and pepper.  Stack the two halves into a sandwich, and put on a hot Panini press for about 10 minutes, until the bread is crusty, and the cheese is melted.  Cut into quarters and eat hot!
print this recipe