One of the best ways to eat avocado is when you don't know it's there at all: blended and swirled and obliterated. Avocado that has been whirlwinded up into smoothies, shakes, and in this case, dressings—it's one of the most mesmerizing applications it takes on. When an avocado meets a blender, it dissolves into a gorgeous, green, almost moussy butter. With that rich, mellow flavor and a thick, almost pudding-like consistency. And a whole wallop of potassium. You just can't argue with such a wholesome chameleon.
For my take on green goddess dressing, I whiz up Hass avocado with the requisite creamy elements to add tang and body, and then a whole garden of flavors: anise, tarragon, sweet basil, sharp scallions, and biting lemons. Garlic and anchovy add bite. Technically, you're supposed to drizzled this over tender green lettuce leaves, but I also love to use it to dip crudités and even chilled shrimp and fried green tomatoes. Plus, I like to think that the avocado, healthy as it is, takes the place of some of the less healthy mayonnaise and sour cream. What a multitasker!
Excerpted from my weekly column The Secret Ingredient on Serious Eats.
Greener Goddess Dressing
serves 4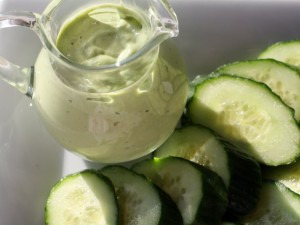 INGREDIENTS


1/2 cup mayonnaise


1/2 cup sour cream


1/2 Hass avocado, roughly chopped


2 scallions, trimmed and quartered


1 large garlic clove


2 anchovy fillets


24 leaves of tarragon


12 leaves of basil


The juice of 3/4 lemon


Kosher salt, to taste


Freshly cracked black pepper, to taste


Procedure
Put everything in the blender, and whiz on full blast until completely smooth.  Serve over an iceberg wedge, with crudités, with shrimp cocktail, or with anything you want.
print this recipe