The other night, I was out to dinner at Haru in New York, a favorite sushi bar of ours where we often order outrageous rolls.  The Kiss of Fire with pickled and fresh jalapeños stacked over a rainbow of tunas.  The Golden Passion, with torch-charred super white tuna and yuzu tobiko.  The Kamikaze, the Spider.  The list goes on.
"I want an avocado roll," I announced.
"An avocado roll!?" they incredulous exclaimed.  "Really?"
They thought I was being boring.  But it's my absolute favorite.  A sparse stick of avocado at the heart: creamy, buttery, vegetal.  Perfect with a hint of salty soy and the snap of nori.  Avocado, I thought to myself, is a phenomenal ingredient.
So here we are: avocado is January's secret ingredient for a number of reasons.  First, as I mentioned, it tastes ridiculously awesome.  Second, and let's be real, it's January, and I need something healthy in my life and in my body.  Third, it's texture is so adaptable, and it's flavor so mild, that you can really do myriad phenomenal dishes with avocado.  I'm not going to teach you how to roll an avocado roll, because some things are best left to the experts.  And I'm not going to do guacamole, because I covered recently in our chipotle month.  And I'm not going to do avocado gelato, because I doubt you'll actually make it, but I wanted to mention it because if you can find some, you must try it.  In the spirit of avocado month.  But I think that we are going to do some fantastic avocado dishes this month, starting with Mémé's Avocado Carpaccio.
Mémé is my French-Moroccan grandmother.  Every Moroccan family begins a big meal with a spread of salads: carrot salads, beet salads, chili salads, cucumber and tomato salads, eggplant salads.  And in Mémé's case, avocado salads.  She makes this simple fan of avocado, and floods it in lemon juice and olive oil.  She bedazzles each Hass half with slivers of scallion, cilantro, and parsley, and then adds the crunch and flavor of flour de sel.  It's gorgeous, simple, healthy.  Buttery and fresh.  Light and decadent.  In short, it's perfect.  I love serving it to kick off a healthy fish dinner.
Excerpted from my weekly column The Secret Ingredient on Serious Eats.
Avocado Carpaccio
serves 4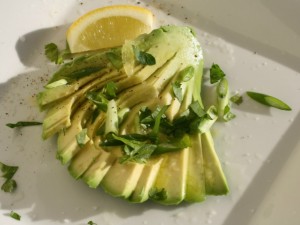 INGREDIENTS


2 Hass avocados


1 lemon


4 teaspoons extra virgin olive oil


1/2 teaspoon fleur de sel


2 scallions, sliced on an angle


A few leaves of flat leaf parsley, roughly chopped


A few leaves of cilantro, roughly chopped


Freshly cracked black pepper to taste


PROCEDURE
Halve the avocados, and remove the pits.  Use a large spoon to scoop the flesh from the skin of the avocados, leaving the flesh of each avocado half intact.  Turn the avocado over so the hole where the pit was is facing down to the cutting board, and the avocado is situated so the long length of the avocado is running north-south.  Slice an array of vertical cuts, creating thin slices of avocado, but be careful not to cut all the way to the top of the avocado.  Leave a bit untouched at the top.  Turn the avocado half over and fan out the slices, still keep that top bit intact.  Place the fanned avocado half on a serving plate, and repeat with the remaining 3 avocado halves.
Cut the lemon into sixths.  Spritz each avocado half with one sixth of the lemon.  Drizzle each avocado half with 1 teaspoon of olive oil.  Sprinkle each with 1/8 teaspoon of fleur de sel, and divide the scallions, parsley, and cilantro amongst the avocados.  Season with pepper to taste.
Slice the remaining two sixths of the lemon in half again.  Trim the wedges, and serve alongside the avocados.
print this recipe