If you're looking for a recipe to beat the winter blues, look no further.  This is my ultimate comfort food: matchstick potatoes, deep fried in goose fat (three times so they're the pinnacle of crisp).  I top them with sea salt I crumble between my fingers and the zest of oranges, lemons, and limes.  It's an idea I picked up at the old Spring when it used to be in Montmartre: they'd serve them with lobster rolls.  Not too shabby.
I entered this recipe in the winter citrus contest on Food 52.  Check it out!
Triple Fried, Triple Citrus Goose Fat Frites
serves 2 to 3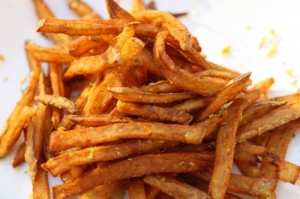 INGREDIENTS


1 pound of Idaho potatoes (about 2 potatoes)


Goose fat for frying


1 orange


1 lemon


1 lime


Maldon sea salt


PROCEDURE
Wash the potatoes well, but leave their skins on.  Use a mandoline to carefully slice them into matchsticks.  Place the matchsticks in a big bowl of cold water, and swish them around as though they were in a washing machine, to wash all the starch off.  Drain the potatoes, and pat them extremely dry using paper towels or a clean dishcloth.
Fill your frying vessel, preferably a medium-sized deep enameled cast iron pan, with at least 3 inches of goose fat.  Heat the oil to 325°F.  Working in batches so as not to overcrowd the pan, fry the potatoes for 2½ minutes.  Drain on a baking sheet lined with paper towels.  Continue until all the potatoes are fried.
Raise the oil temperature to 360°F and repeat the same process, only this time fry the potatoes for only 1 minute.  Drain the first batch, and repeat the process for all the potatoes.  Then raise the heat to 375°F.  Repeat the process again, still working in small batch.  This time, fry the potatoes for only 15 seconds, until they are golden brown and crisp.  Drain on a fresh set of paper towels, and season immediately with salt and citrus.  You will want 8 Microplane swipes each from the orange, the lemon, and the lime.  Crumble the Maldon salt between your fingers, salting the frites to taste.  Use your fingertips to gently toss the salt and citrus zest amongst the frites.  Eat right away!
NOTE
If you can't find goose fat, you can use duck fat, or just a light vegetable oil.
print this recipe