These tacos leave me speechless.  Which is a rare thing.  I can't figure out if it's because they're so mind-blowing that I literally cannot speak, or because my mouth is fuller than it has ever been before.  Definitely a combination.
I love this recipe for several reasons.  One: it's super healthy.  And it's January.  It's time to stay home, save money, and eat well.  Or at least better.  This dinner is black beans, avocado, and tons of flavor.  No greasy pulled pork (how good is that stuff?), no runny cheeses.  But two: it's still filling and packed with the smoky flavor of chipotles and cumin and chili powder, and the power punch of lime and jalapenos.  Let me break it down.
There are two equally important fillings in this taco.  The first is the guacamole.  Fresh smashed avocados with red onion, tomatoes, lime, and cilantro.  I spike it with chipotles in adobo for an extra smoky, spicy punch.  Keep in mind, it's not a topping, but an actual taco filling.  I got the idea at Rosa Mexicano in New York.  They make your guacamole to your specifications tableside, and serve it not only with tortilla chips, but also with small warm corn tortillas for making guacamole tacos.  That's my favorite bit.  So I stole that idea for these tacos.
The second filling is spiced black beans.  I just warm up some canned black beans with chili powder, cumin, ground coriander, and bay leaf.  Use whatever you have on hand.  Then I either char the corn tortillas on the stove, or microwave them, so they're warm and pliable and the perfect wrapper for all that good filling.  Sometimes I top with sour cream.
This recipe, as with all Working Girl Dinners, is extremely easy, and pretty darn cheap.
When I tell you I love this recipe, I'm talking first-born love.  First-love love.  Soul shattering, earth moving love.  Romeo and Juliet didn't know love, love.  I love these tacos.  Bon app!
Mind-Blowing Smoky Guacamole and Spiced Black Bean Soft Tacos
serves 4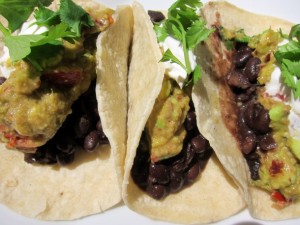 INGREDIENTS


3 Hass avocadoes


1/8 red onion, finely diced


2 vine ripe tomatoes, seeds removed, finely diced


1/4 cup cilantro, roughly chopped


Juice of 1 lime


Kosher salt


2 chipotle peppers, finely diced


2 teaspoons adobo (from the chipotle can)


1 clove garlic, grated


2 15-ounce cans of black beans in seasoned sauce


1 teaspoons chili powder


½ teaspoon cumin


½ teaspoon ground coriander


1 bay leaf


12 smallish corn tortillas


PROCEDURE
For the Guacamole: Scoop the flesh of the avocado into a large bowl.  Add the rest of the ingredients, and use a wooden spoon to mash everything together.
For the Beans: Add the beans and the sauce from the cans to a small saucepot, along with all the spices.  Season with salt, cover, and heat on medium-low heat until hot and bubbling.  Remove the bay leaf before serving.
For the Tortillas: There are two methods to heating your tortillas.  The easy one is to wrap the stack of tortillas in one or two damp paper towels.  Then microwave them for a minute or two until soft and steamy.  The better way is to preheat a cast iron or regular skillet on medium heat until it's nice and hot.  Spray the pan lightly with nonstick cooking spray.  Dunk a tortilla in a bowl of water, and sear it on both sides until the tortilla is dry and flat (don't keep turning them; just turn them once when ready).  Keep the warm tortillas folded in aluminum foil, and just do the same thing for each tortilla.
print this recipe