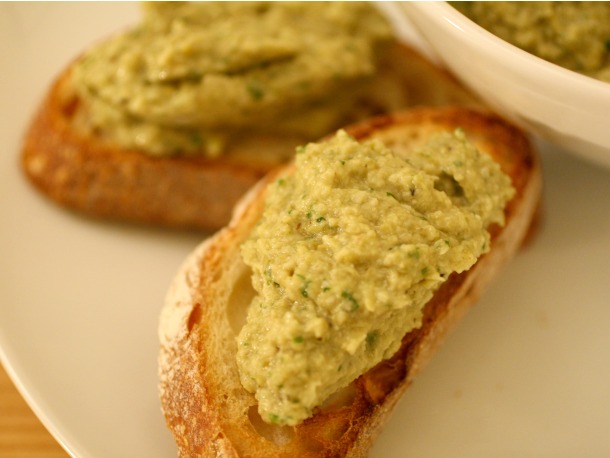 When I come home late from work, as I have been lately, I don't really want a full dinner.  I don't want to spend an hour in the kitchen, and I don't want to spend an hour at the table.  I want something vibrant and light and life-giving.  Something that will get me till morning, and brighten up my evening.  No more, and no less.
This tapenade is my weeknight winner.  It's unorthodox.  Most tapenades starts with black niçoise olives.  This one uses briny, bright green olives.  And, even more unique, while olives are usually center stage in tapenade, this tapenade is a double act of green olives and artichoke hearts.  The artichokes add their own texture and flavor, and they cut through that strident saltiness of the olives with a mellow Mediterranean creaminess.  I make a point to use the artichokes and olive that can sit for weeks in jars or cans in your pantry.  The rest of the flavors are always on hand and easy to keep: anchovy paste, herbes de Provence, garlic, Parmesan, lemon, and parsley.  For me, those are all pantry items that I have at home always.
So when, like tonight, I come home at nine o'clock wondering what I will scrape together, I have this bright, vegetal, versatile thing that I can whip up in the food processor in five minutes.  Then, I can pile it high on toast, mix it with canned tuna, dollop it on grilled fish, smash it with melty mozzarella in a Panini, or serve it with crudités and a well-deserved glass of white wine.  That is truly French in a flash, in a pinch.
Excerpted from my weekly column French in a Flash on Serious Eats.
Artichoke and Green Olive Pantry Tapenade
serves 6
INGREDIENTS
1 medium clove of garlic
3/4 ounce excellent Parmesan
1 14-ounce can of artichoke hearts in water or brine, drained
1 12-ounce jar pitted green olives, drained
1 teaspoon anchovy paste
1 teaspoon dried herbes de Provence
Zest of half a lemon
Juice of 1/4 lemon
1 teaspoon white wine vinegar
1/4 cup extra virgin olive oil
Handful of flat leaf parsley
PROCEDURE
Blitz the garlic and Parmesan in the food processor until they're smashed to smithereens.  Then, add all the other ingredients, and pulse for a chunky tapenade, or run until smooth.  Serve with lightly toasted excellent bread.  Or, put in a Panini with fresh sliced mozzarella, or spoon over grilled fish.
print this recipe