Mr. English loves asparagus.  And sometimes, love is making what the person you love loves for dinner.  I'll admit–this dish isn't much of a sacrifice.
Asparagus is best in the spring, especially in England when the whole country explodes with asparagus soups, salads, pies, sides.  Everything asparagus, for two weeks.  But, it's also one of the rare vegetables that is available all year long.  In Europe, you tend to have to adjust your taste buds to what Mother Nature is serving for dinner.
This dish is the perfect way to perk up your out-of-season asparagus.  I toss them with old-style whole-grain French mustard for a tart and tangy crunch.  Rosemary for woodsy richness that mirrors the asparagus.  Olive oil and sea salt to attain that perfect roast crunch.  And lemon zest, that explodes and exposes all the flavors like a flashbulb on an old-world camera.  Nestled next to simple roast chicken or pork or fish, or even chopped and piled onto a salad, or layered into a ham sandwich, this dish is easy, simple, and good.
Excerpted from my weekly column French in a Flash on Serious Eats.
Old-Style Mustard and Rosemary Roasted Asparagus
serves 2 to 4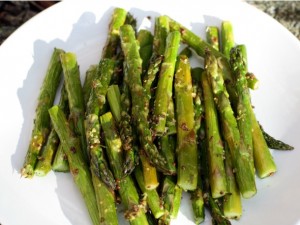 INGREDIENTS
12 ounces asparagus, trimmed and halved
2 teaspoons olive oil
1 teaspoon grain mustard
1/2 teaspoon chopped fresh rosemary
The zest of 1/4 lemon
Salt and pepper to taste
PROCEDURE
Preheat the oven to 425 degrees F.  Line a rimmed baking sheet with parchment paper.  Toss the asparagus with all the other other ingredients on the baking sheet until combined.  Roast for 10 to 12 minutes.  Serve immediately.
print this recipe