Paris is a romantic city.  But the most romantic place in the whole of that romantic city is the tearoom at Berthillon.  Berthillon is an ice cream shop on the tiny and quaint Île St. Louis.  But it's not like other ice cream shops.  It recognizes the wonder that is ice cream, and situates itself among the pomp and circumstance that ice cream requires: brass bars.  Marble tables.  Silver cups.  Line up and get a scoop to go.  Or, do something dreadfully romantic, and get a table for two in the tearoom.
There, you can order one of their coupes composées: or, sundaes.  They're not like ours.  They're far more petit.  A scoop of ice cream, a drizzle of chocolate or raspberry sauce, and then a gorgeous mound of fresh whipped cream that has no competitor in the whole world.  They even do a kind of French affogato where they drown your ice cream scoop in thick hot chocolate.
But I always order the raspberry-rose.
When I say always, I mean in summer, because all the myriad Berthillon flavors are available by season only.  And in the summer, they do a famous sorbet made of bright, fresh raspberries and sweet, fragrant roses.  It's unlike anything you've ever tasted.  I cover it in that drizzle of chocolate sauce, and that mound of whipped cream, and I enter into a kind of reverie.  For me, it is the Lady and the Tramp spaghetti and meatballs.  The most romantic, delicious, indulgent thing you could ever share with anybody.
And here is my version.  Very French in a Flash.  A bit too late for Valentine's Day, but Mr. English make a point to never celebrate Valentine's Day on actual Valentine's Day, so if you want to do something romantic a bit out of step with the calendar, I can't think of an easier, more delicious, more Parisian way to do it.  Drizzle your raspberry sorbet with rosewater, and shave curls of white chocolate over the top.  Voilà.  A cup of sweet, flowery romance.
Excerpted from my weekly column French in a Flash on Serious Eats.
Raspberry-Rose Sorbet with White Chocolate
serves 4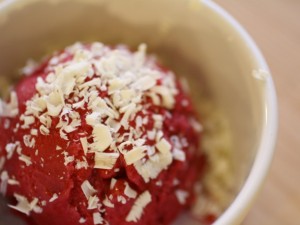 INGREDIENTS
4 big scoops of raspberry sorbet
1 teaspoon rosewater, divided
Excellent white chocolate, for shaving over the top
PROCEDURE
Take the sorbet out of the freezer ten minutes before you want to scoop it.  Then, scoop big, perfect scoops into four waiting small ramekins.  Drizzle each scoop with 1/4 teaspoon rosewater  (or more to taste).  Use a coarse Microplane to shave bits of white chocolate all over the top.  Serve right away with high expectations!
print this recipe